UK extension plants seeds for healthy lifestyles
UK extension plants seeds for healthy lifestyles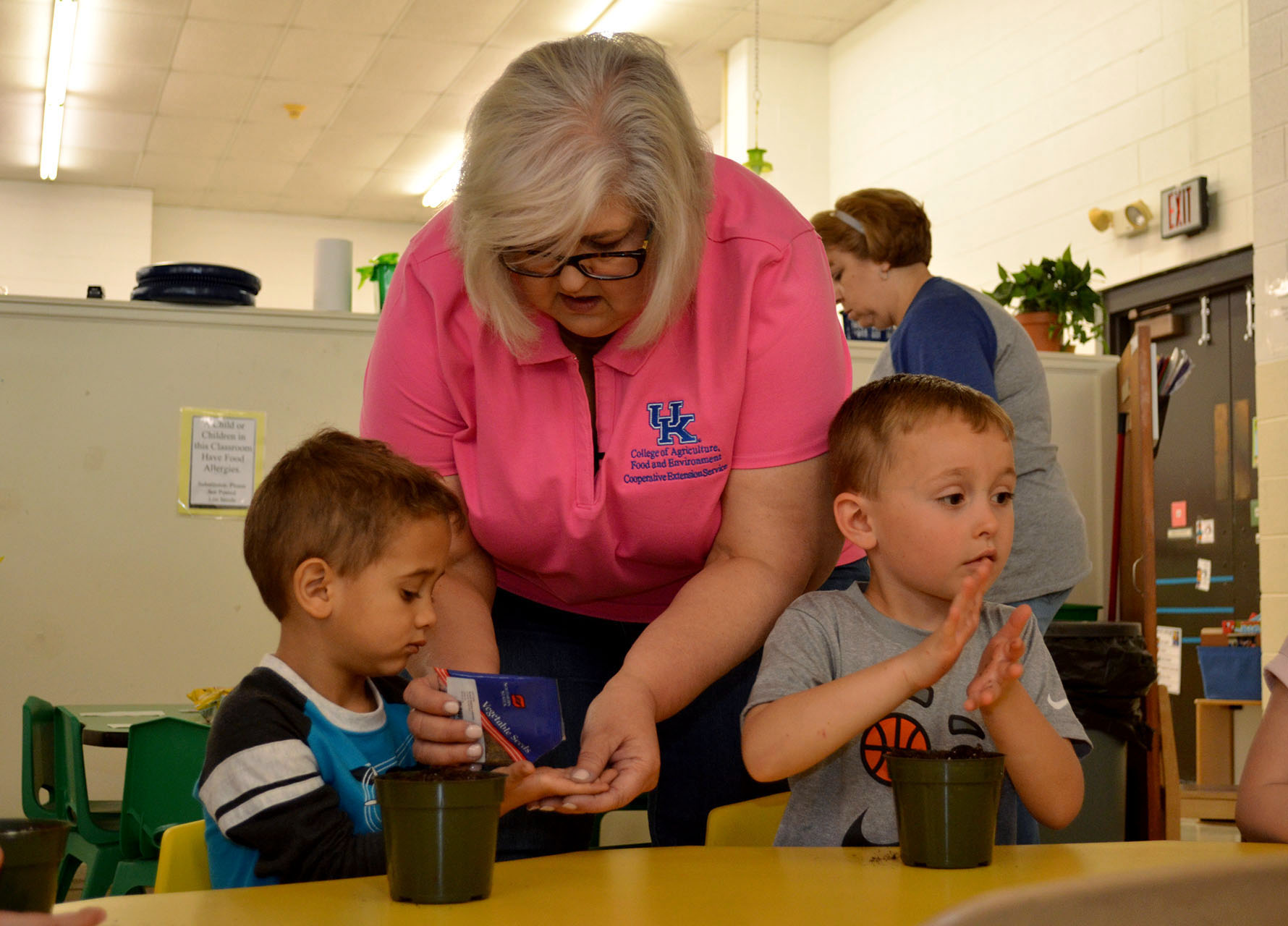 ASHLAND, Ky.—
To view the video, click here.
Young children in Boyd County are learning healthy habits thanks to programming efforts by the University of Kentucky Cooperative Extension Service that include planting their own vegetables.
Susan Grimmett, program assistant for Supplemental Nutrition Assistance Program-Education, has worked with 300 students at four schools within the county to teach them about the importance of nutrition and physical activity within the school year. To do so, she used Organ Annie and other characters from The OrganWise Guys, a program initiated by two doctors to spread awareness about the importance of a healthy lifestyle to battle childhood obesity. Grimmett has used the program with Boyd County preschool through second-grade students for the past three years as students and teachers continue to request it.
"The students have enjoyed it, and they have learned a lot," said Kelly Smallwood, a preschool teacher at the Early Childhood Learning Center-North in Ashland. "Every time Susan comes, she has something for them, and they enjoy that also."
For one of the program's culminating events this school year, Grimmett collaborated with Lori Bowling, Boyd County horticulture extension agent, to help the children grow their own pots of leaf lettuce. They chose lettuce, because the students could very quickly see growth. After the lettuce sprouts in the classroom, the children will take their pots home with the goal of sharing the message of nutrition and healthy eating with their families, many of which have limited resources and low incomes. The ultimate goal is for the children to harvest the lettuce and work with their parents to incorporate it into a family meal.
"If we teach them at this age about what's healthy and the kind of diet they should be eating, hopefully as they progress through school, they will make wiser food choices and have a healthier lifestyle," Bowling said. "We also want them and their parents to understand that you can grow your own food, regardless of where you live, as long as you have a container, seeds, sunlight and water."
Even though their pots of lettuce are still small, Grimmett has heard many of the children are excited about growing the produce as some teachers have already received positive emails from parents about the project.
"They are eating healthier, and their parents are getting involved more and buying healthier foods at their children's request," Grimmett said.
UK Cooperative Extension Service is part of the UK College of Agriculture, Food and Environment, which is dedicated to improving people's lives through excellence in education, research and outreach.
---
Extension
Family Consumer Sciences
Horticulture
Nutrition