UK fellowship students help engage communities local and abroad
UK fellowship students help engage communities local and abroad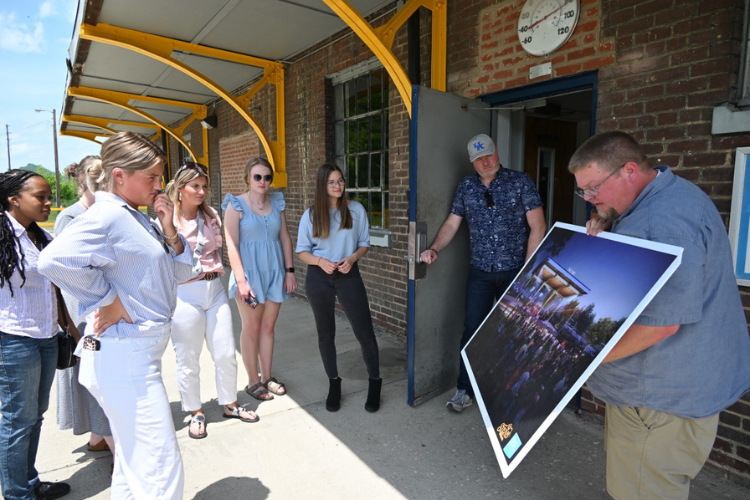 LEXINGTON, Ky.—
University of Kentucky students and staff are putting the word "engagement" into action through the Building Prosperity for Rural Communities summer fellowship. 
A multi-disciplinary cohort of 10 students from UK College of Agriculture, Food and Environment and UK College of Design along with staff from The Community and Economic Development Initiative of Kentucky worked to develop community engagement plans for two Eastern Kentucky communities, Irvine, in Estill County and Flemingsburg, in Fleming County. 
Over the 10-week fellowship, students hosted and attended events in their assigned communities to gauge the community's wants and needs. They spent hours researching local statistics, creating asset maps and developing funding strategies to address the community's needs. Their work culminated in a nearly 150-page document with suggested events and detailed plans for each community. 
Kelsey Davis, a community and leadership development and interior design dual degree junior, and Payton Lewis, a community and leadership development senior, were a part of the Irvine community team.  
"We decided what we wanted to put out there for the community to maybe fundraise or get grant money for, so that they could potentially put those projects into reality," Davis said. "Whether that's a short-term project or a long-term project, we made several different cost options and time ranges for those. It was really about putting the community's wants and needs, what they see fit, into the plan rather than putting in our own perspective as outsiders." 
Joe Crawford, executive director of Estill Development Alliance, worked with the fellows in Irvine.  
"This program allowed us the opportunity to receive expert guidance on some aspects of our downtown that have been talked about for years, but we had never had the knowledge to address them," Crawford said. "The blend of professionalism and excitement these students brought to our community was a breath of fresh air."  
Kenney Gulley, Fleming County Rotary Club president and a director of the Fleming County Chamber of Commerce, said the second team of students brought a similar positive presence to Flemingsburg.  
"The interns brought a new set of eyes and ideas to the planning process for the Flemingsburg community," Gulley said. "Their enthusiasm for their vision carried over to the community partners involved in the project."  
The impacts of the students' work will long outlast the summer experience as communities consider and implement the fellows' recommendations in the future. 
"While we don't know yet how the final product will look, the suggestions given to us by our UK team have been taken to heart, and their work will definitely impact the positive changes that will come about in our downtown in the near future," Crawford said. 
The group also traveled to Chattanooga, Tennessee for two weeks to work with the Orchard Knob community to formulate a small-scale community engagement plan and address things such as historic mailbox preservation and replacing chain-link fences.  
"It was really important because that travel component set the scene to see that this matters. It really does matter," Lewis said. "When you see these people face to face, who are being impacted, it resonates with you on a different kind of level. It's just so personal and makes me realize how much I want to help these people and want to keep doing this kind of work." 
The Building Prosperity for Rural Communities summer fellowship is now accepting applications for this summer's cohort. The 2023 fellowship program will focus on helping communities in Western Kentucky affected by the December 2021 tornadoes, and students will spend two weeks in Glasgow, Scotland working on a development project there as well. The program invites students from all disciplines interested in development to apply. 
"We've had this really great mix of students who then each bring a different perspective to the communities as they work in the summer, but this also helps them to start learning each other's vocabulary and values, as they will likely be working together in the future," Ryan Sandwick, CEDIK's Community Design Program Manager. 
To apply for the summer 2023 cohort, email a cover letter, resume and pdf portfolio of work under 10 MB to Ryan.Sandwick@uky.edu by Friday, Nov. 4. 
---
Awards
Community Development
Extension
Research
Students
Sustainability