UK interns helping students and communities through school gardens
UK interns helping students and communities through school gardens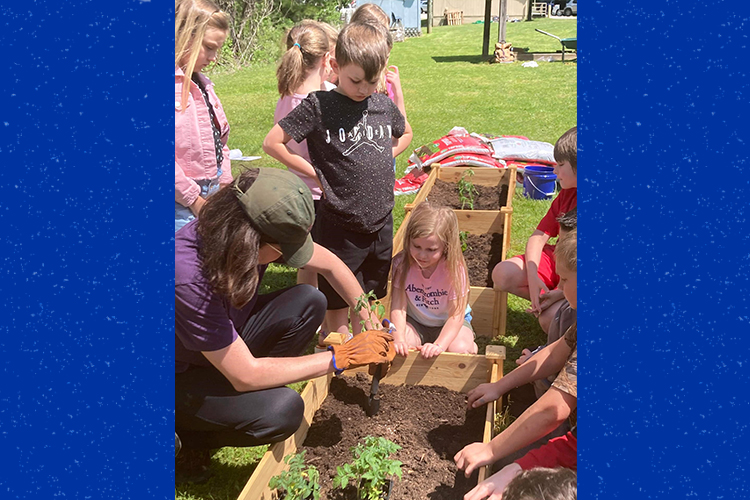 Lexington, Ky.—
Farm-to-School programming, a way of connecting kids to farmers and fresh foods, has existed in Kentucky since the early 2000s, but in 2021, farm-to-school stakeholders established the Kentucky Farm to School Network to further promote and enhance these efforts. Now, University of Kentucky Department of Dietetics and Human Nutrition interns are completing their first year of working with schools' farm-to-school programs and are finding the tasks fulfilling.  
The state network uses best practices from the National Farm to School Network, and seeks to push farm-to-school projects further by sharing resources and ideas and creating a united effort to advance farm-to-school activities in the commonwealth. Founding partners include the UK College of Agriculture, Food and Environment, Kentucky Horticulture Council, Community Farm Alliance, Feeding Kentucky and the Kentucky Department of Agriculture. 
"The past 10 years have really seen farm-to-school programs become more popular," said McKenzie Fox-Potter, KHC special projects coordinator. "This new network was established to progress it even further. Now schools, farms and other farm-to-school stakeholders can share resources and grow their programs even more." 
In 2021, the network, through the KHC, received nearly $225,000 in grant funds from the U.S. Department of Agriculture National Institute of Food and Agriculture Food and Agriculture Service Learning Program to fund the development of the network and two pilot projects.  
In the first pilot project, the KHC teamed up with UK DHN to work with five schools that received $5,000 school garden grants through one of the grant's pilot projects. An internship program, consisting of both graduate and undergraduate students, assisted schools to bring their programs to life. More than 30 schools applied for the five spots to help establish a garden while incorporating nutrition and cooking education programming. 
"Starting in January 2022, the interns helped these schools plan their gardens, figuring out what to plant and showing them how to start a garden-to-school process," said Kendra OoNorasak, DHN program coordinator. "Over the spring and summer, the interns helped establish and maintain the garden. Since the schools were spread over the state, these interns also worked with the schools to teach them to maintain their gardens independently." 
In the fall, the interns implemented a five-week garden, cooking and nutrition curriculum in the participating schools. The curriculum uses activities and programs from The Edible Schoolyard Project–a non-profit aimed at changing public education using organic school gardens, kitchens and cafeterias to teach both academic subjects along with nourishment, stewardship and community—to leverage the work toward the age-appropriate students working with the school's garden. 
"Our interns also conducted baseline and post-work surveys," OoNorasak said. "We wanted to find out the students' confidence level in gardening and healthy eating and wanted to know about a student's food preparation skills, such as measuring and following recipe instructions. We tried to expose the students to various fruits and vegetables to get an idea of which recipes they enjoyed the most and if and how their food preferences changed." 
Many schools across the state have school gardens, however, some find them difficult to maintain for a variety of reasons.  
"Funding and sustainability are two of the biggest barriers," Fox-Potter said. "Often, when a school starts a garden, only one teacher works with it. If that teacher leaves, the garden falls to the wayside and is sometimes removed altogether. Applicants to this new program had to outline how they would keep their gardens sustainable into the future." 
The second pilot program provided students from more than 40 schools with increased access to local fruits and vegetables through "taste-testing" grants.  
"Most of these schools are spending 80–90% of their grant budget on fruits and vegetables, but some are buying agricultural books, making posters and stickers and paying for a local farm tour involving taste testing," Fox-Potter said. 
Nicholas Gunn, a dietetics senior with a minor in sustainable agriculture, said working with the program was a valuable experience. 
"I gained a better understanding of what it takes to organize a project of this size across a variety of schools," Gunn said. "I also discovered students' nutrition and sustainability knowledge. This helped me cater lessons to include past knowledge with a gained understanding throughout our sessions. The impact was the best part of the experience. Not only did the students I taught learn skills they can use throughout their life, but I learned a great deal about food systems, policy, societal impact and food accessibility."  
Catharine Pickford joined as a graduate intern in 2022 to help develop a curriculum for the schools and work on the research aspects of the project and credits the program with an increased enthusiasm among students for local foods. 
"It's exciting to see students of all ages receive an education about nutrition and gardening or agriculture," said Pickford, who is currently working on her master's in nutrition and food systems. "I didn't have access to programs like these until I first got to college. We are giving them a chance to touch the soil and tell them everything that is in it. I feel like it's great that students here in Kentucky know where their food is coming from, and I think it's sparked an interest in some who now want to pursue a different career path. I am really appreciative that I was able to be a part of this and know that we are helping students and communities." 
---
Community Development
Nutrition
Students