UK, Iowa State to lead new arthropod management research center
UK, Iowa State to lead new arthropod management research center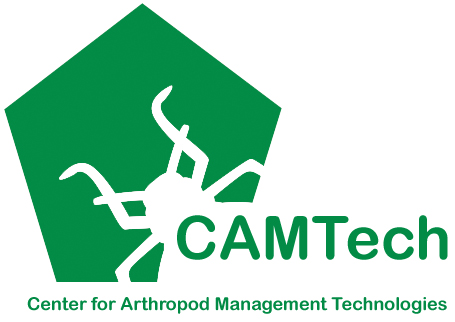 The National Science Foundation has funded an Industry-University Cooperative Research Center that will explore new strategies for managing insect pests that devastate crops and harm human health.
Led by Iowa State University and the University of Kentucky, the Center for Arthropod Management Technologies will be established with $800,000 over five years from the NSF. The center primarily will be supported by the membership of industry partners and will conduct research relevant to both industry and center scientists.
Bryony Bonning, professor of entomology at Iowa State University, will be the center's director. S. Reddy Palli, professor of entomology with the University of Kentucky College of Agriculture, Food and Environment, will be co-director.
"The Center for Arthropod Management Technologies will streamline the efforts of industry, government and universities to develop effective new technologies to manage arthropod pests," Bonning said. "Our research will align with the needs of industry to expedite the delivery of new tools for pest management."
"A number of insects have emerged as major pests and disease vectors in recent years in the United States as a result of increases in international trade, international travel, insecticide resistance and the use of pest-tolerant, genetically modified crops," Palli said. "Cutting-edge research conducted at the new center will help develop better and safer arthropod management technologies to help solve some of these emerging pest problems."
Arthropod pests, which include both insects and ticks, severely impact global agriculture and human health. In the Midwest, the invasive soybean aphid has decimated soybean fields ; the corn rootworm is a constant threat to corn and the brown marmorated stink bug, which feeds on multiple crops, is causing increasing concern. Over the past decade, management of the soybean aphid alone has cost farmers an estimated $1.6 billion in yield losses and management expenses. On the human health front, tick-transmitted Lyme disease and mosquito-transmitted West Nile virus are pervasive, and bed bugs are increasingly common.
"The College of Agriculture, Food and Environment is very happy to be involved in this partnership with Iowa State University," said Nancy Cox, UK associate dean for research and director of the Kentucky Agricultural Experiment Station. "This project provides a way for excellent research to get in the hands of agribusiness to create the most effective means of solving pest problems. This problem-solving enhances the safe and affordable food supply in the U.S., and also reduces the impact of insects on human health."
Bonning said the center's research will focus on areas with the potential for significant commercial benefits, including:
·      New management approaches to address insect resistance to current insecticides and control strategies
·      Development of transgenic plants that more effectively resist or tolerate pests
·      Development of pest management strategies using RNA interference, an approach that targets cellular activity in insects, interfering with growth or lifespan
·      Identification of new physiological sites to target for improving pest control
·      Development of new or optimized methods that increase effectiveness of research and of current management tools or that enhance the role of integrated pest management strategies
The Center for Arthropod Management Technologies will join about 60 active Industry-University Cooperative Research Centers that have more than a thousand industrial firms and government labs as members. 
The NSF began the Industry-University Cooperative Research Centers Program more than 30 years ago to stimulate nonfederal support of research and development, speed the delivery of new technologies and improve the industrial competitiveness of the nation. The program develops long-term partnerships among industry, universities and government. The centers are established through a small investment from the NSF and are primarily supported by industry center members. NSF provides a supporting role in development and evolution of the center. Each center conducts research of interest to both the industry members and the center faculty.
More information on the Center for Arthropod Management Technologies can be found on the center's website, http://www.ent.iastate.edu/camtech/home.
---
Crops
Economics
Entomology
Environment
Extension
Research