UK researcher earns national recognition for innovative soil research
UK researcher earns national recognition for innovative soil research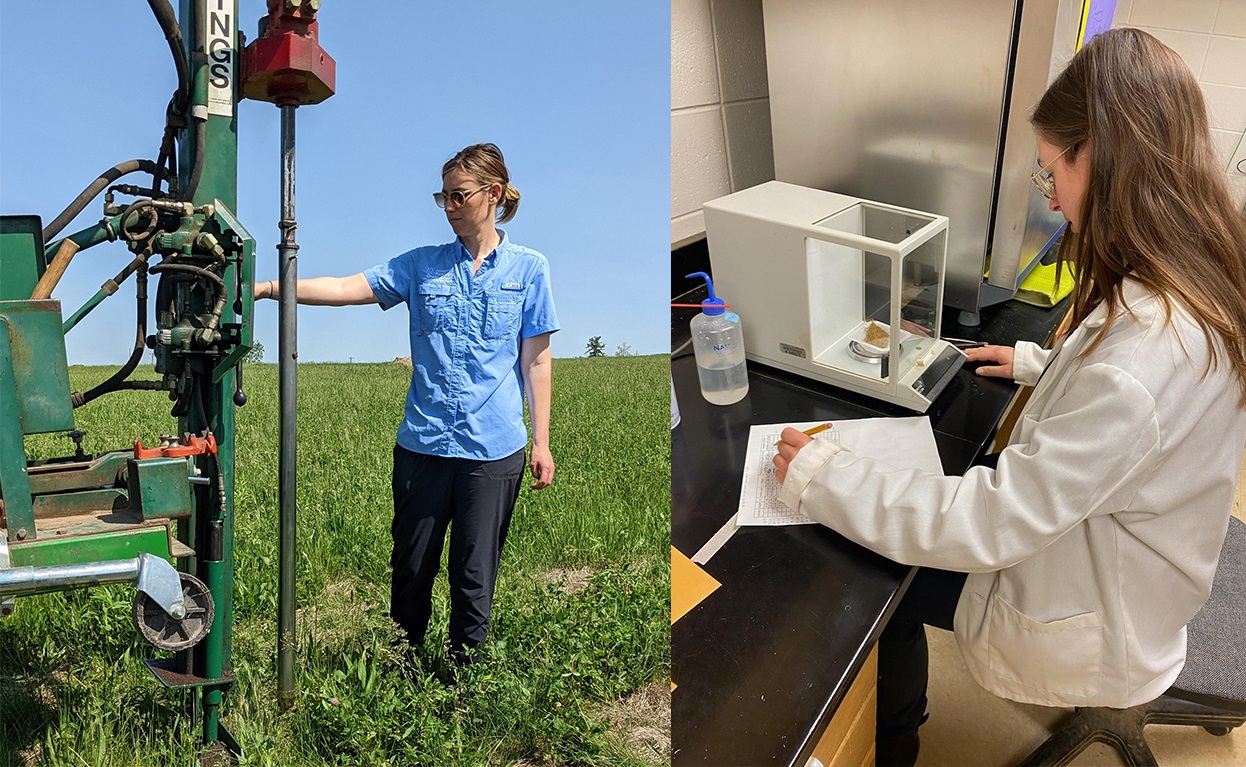 LEXINGTON, Ky.—
Hanna Poffenbarger centers her professional work around soil management for climate-friendly agriculture. The University of Kentucky College of Agriculture, Food and Environment professor tailors her research around understanding soil carbon and nutrient cycling to develop agricultural systems with improved productivity and environmental performance. The Foundation for Food & Agriculture Research recently rewarded Poffenbarger for her work improving soil quality. 
FFAR's New Innovator in Food & Agriculture Research Award provides early-career scientists with the investment they need to launch successful research careers. Young faculty often find it difficult to obtain grant funding. To launch the careers of scientists whose research addresses critical food and agricultural challenges, FFAR established the New Innovator Awards. By receiving these awards, grantees can concentrate entirely on research without being pressured to secure additional funding. 
"I think that climate change has become such an urgent issue," said Poffenbarger, an assistant professor of soil nutrient management in the UK Department of Plant and Soil Sciences. "I'm interested in doing my part to reduce the effects of it on humanity. I feel that building up soil organic matter is an important way of not only combating it, but adapting. Building up soil organic matter is not only important for removing carbon from the atmosphere, but also, to make the soils more healthy and resilient." 
Organic matter is a key component of soil that affects its physical, chemical and biological properties, contributing greatly to its proper functions on which human societies depend. Higher organic matter in the soil builds up its structure or tilth, which means more physical stability. This increases oxygen in the soil and water drainage and retention. It also lowers the danger of erosion and nutrient leaching.  
Soils are limited natural resources. While they are treated as renewable due to the fact they are constantly forming, their production occurs at exceedingly slow rates. A single inch of topsoil can take hundreds of years to mature. Poffenbarger hopes she can discover management practices to protect soil and regenerate soil organic matter, which can aid in creating a healthier planet. 
While most research centers on the top six inches of soil, Poffenbarger wants to better understand the layers below that.  
"A lot of our understanding of carbon in the soil comes from studies that just focus on the top layer," Poffenbarger said. "The studies we do have shown different responses to management. For example, tillage usually decreases organic matter in the topsoil, but can sometimes build up soil carbon in deeper layers. So, there is a lack of knowledge in the deep soil, but it is important to understand because half or more of the carbon can be found below the topsoil." 
Plant roots are very effective at building soil organic matter. Increasing root growth can enhance soil health; however, uncertainties exist which limit the capability to take advantage of the soil health attributes roots could provide.  
"One project specifically measures the carbon that's getting added to the soil and transformed into stable organic matter from cover crops that are winter-killed or spring-killed to understand the importance of continuous living roots for soil health," she said.  
One graduate student working with Poffenbarger said she was also drawn into this work to help the environment. 
"What drew me specifically to this project was the idea that farmers could be paid for things such as carbon stocks, which they already have on their farm," said Danielle Doering, Poffenbarger's assistant who already received a bachelor's degree in natural resources and environmental science from UK and is currently working on a master's degree in integrated plant and soil science. "Dr. Poffenbarger has been a wonderful teacher and leader and she is doing some really great work in agriculture. One day I hope to work as a sustainability manager for an organization and I think this work aligns really well with those goals." 
Poffenbarger believes that her research will be very beneficial in helping the Earth reverse some of the effects of climate change. 
"Through our research, we hope to learn which aspects of roots are most beneficial to soil health, and how we can manage soils to maximize the benefits from roots," she said. "Finding some of the answers to this question could help our planet become a healthier place." 
---
Environment
Horticulture
Research