UK researchers study chocolate prices
UK researchers study chocolate prices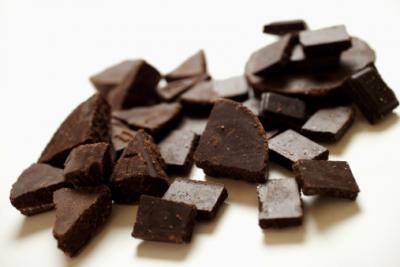 LEXINGTON, Ky.—
The holiday season is a time when many people think of buying, purchasing and consuming chocolate. A recent study by researchers in the University of Kentucky College of Agriculture, Food and Environment analyzed the prices of various chocolates along with consumer willingness to pay for them.
"We wanted to gain a deeper understanding behind pricing and purchasing actions in the chocolate industry," said Willie Bedell, a graduate student in the Department of Agricultural Economics. "For instance, a chocolate eater can tell his or her preference for a chocolate, but he or she might not understand the role that the chocolate market plays in economic development for farmers in developing countries, where most cocoa is produced."
Bedell and Michael Reed, UK agricultural economist, studied the prices of chocolate at top online stores for grocery and gourmet foods during August 2017. The researchers wanted to see if various nutritious attributes of chocolate, such as bars blended with fruit or nuts or chocolate containing various labels, affected consumers' preference for the chocolate or the merchandiser's price. They compared these prices to the cost of a traditional chocolate bar.
Their study showed that when consumers buy chocolates, they are not necessarily thinking of the potential health benefits they could receive by eating those blended with fruit or nuts. Online retailers do not always price blended chocolates higher than plain chocolate. Consumers do pay a premium for white chocolate blended with fruit or nuts and blended bars with known cocoa content. They also pay a premium for plain chocolates that are rich in protein, and they will pay a premium for dark chocolate over milk chocolate, likely because of dark chocolate's health benefits.
Consumers also pay a premium for chocolate bars that are high in fat and carbohydrates, as well as chocolate labeled GMO-free and organic. Small-batch and locally produced chocolate tends to be more expensive than chocolate from leading brands.
The UK researchers also found that chocolates labeled fair trade often cost less than other types of chocolate. The fair trade designation assures that farmers in developing countries receive a fair price for their products.
"It was unexpected for us to find a lower price for fair trade chocolates and no price premium for blended chocolates," Bedell said. "The industry needs to do a better job of promoting fair trade and the health benefits of blended chocolates, especially to consumers."
UK researchers said a need exists for larger, more in-depth studies to more fully understand chocolate pricing and purchases.
For the complete study, visit http://people.wku.edu/alex.lebedinsky/KEA_papers/BEDELL.pdf.
---
Economics
Research