UK study examines climate change effects on tall fescue, endophyte
UK study examines climate change effects on tall fescue, endophyte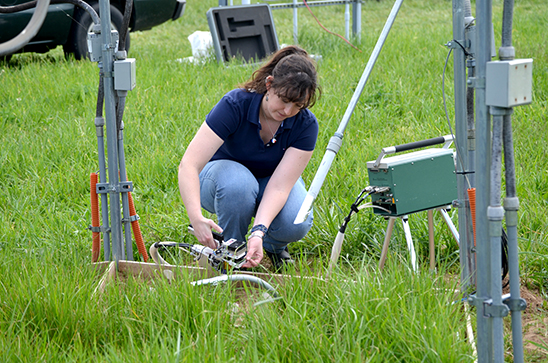 LEXINGTON, Ky.—
The way tall fescue and its fungal endophyte react to future climate change will depend on the genetics of each organism, according to researchers in the University of Kentucky College of Agriculture, Food and Environment.
Then UK graduate student Marie Bourguignon, UK agroecologist Rebecca McCulley and Randy Dinkins, a scientist with the U.S. Department of Agriculture's Forage-Animal Production Research Unit, looked at the potential effects of warmer and wetter conditions on four different genotypes of KY 31 tall fescue, one of the most common grasses used in pastures in Kentucky and the Southeast. Their U.S. Department of Energy-funded study looked at climate change effects on the common endophyte, a fungus found in most tall fescue that helps the plant grow better and tolerate stressful conditions. The fungus is also an insect deterrent, but it can be toxic to livestock. About 75 percent of all tall fescue in the United States is infected with the common strain of the endophyte.
"We really wanted to assess the response of the plant, so we're able to predict what's going to happen in the future and to be able to give advice to farmers who use tall fescue in their pastures," said Bourguignon, now a doctoral student at Iowa State University.
Climate scientists predict that in 50 to100 years, Kentucky will be around 3 degrees Celsius warmer and could receive more rainfall. UK researchers simulated those effects using heat lamps to add 3 degrees Celsius on top of the outside temperature and applied 30 percent more rainfall over the growing season using a water hose and precipitation collected on-site, applied around twice a month.
Of the four climate treatment plots, one plot received no additional heat or precipitation. One plot received only the warmer temperatures. One received only the increased precipitation, and the other received both the increase in temperature and rainfall. UK scientists managed the plots as a typical Central Kentucky hayfield, harvesting the grass three times during the growing season.
In the study, two of the tall fescues had the common toxic strain of the endophyte. The other two had novel endophytes, which provide a growth benefit and improved stress tolerance to the plant without being toxic to mammals. Like the tall fescue, all of the endophytes used in the study had different genetic makeups.
"We found that each plant and endophyte combination had unique responses to the treatments," Bourguignon said. "Some fescue-endophyte combinations responded very well to climate changes, but others not so much. Some plants infected with the common endophyte strains will be even more toxic for livestock when temperatures are elevated. That is not what we want."
The common endophyte produces alkaloids, which have a range of physiological effects on grazing animals, including impairing vascular function. When livestock consume alkaloid-laden tall fescue, it can cause fescue toxicosis. This most commonly affects cattle. Disease symptoms include elevated body temperature and decreased weight gain. It can also negatively affect horses, especially pregnant mares, as it can impact the amount of blood the fetus gets.
Additional research has shown too much of the toxic endophyte lowers milk production in goats and dairy cows. Forage producers commonly manage the effects of the toxic endophyte by planting other grasses or legumes to dilute the endophyte's effects. Some are also replanting their fields using tall fescue varieties containing novel endophyte strains that are nontoxic to mammals.
"Our research shows that while tall fescue persists under warmer and wetter conditions, it is less dominant than in pastures today," McCulley said. "Maybe that will help dilute the effects of those toxic compounds, but if you have a pasture dominated by common endophyte-infected tall fescue, those conditions and the elevated alkaloids they produce will create more intense, negative effects on animals that have to graze that material."
The researchers also found some of the tall fescue infected with the novel endophytes, which are nontoxic for mammals, did not recover as quickly from the summer heat as compared to the tall fescue that was infected with the common endophyte, which could result in less productivity. The researchers said it is important that new fescue cultivar and endophyte combinations be screened for environmental tolerance before being widely adopted by farmers to help ensure continued pasture productivity, resilience and profitability in the future.
---
Crops
Environment
Equine
Horticulture
Research
Sustainability
Weather