UK study finds demand for local food is no fad
UK study finds demand for local food is no fad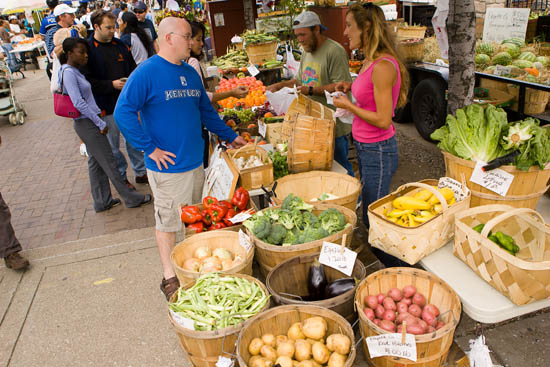 LEXINGTON, Ky.—
People involved in a wide variety of food venues in Lexington are enthusiastic about the increasing demand for local food, a University of Kentucky study found. Researchers behind the Fayette County Local Food Demand Assessment estimate that Lexington businesses in 2014 spent approximately $14 million on Kentucky food products—money that went directly to farmers—with growth likely to continue to $20 million to $24 million in sales by 2020.
The Food Connection at UK and Bluegrass Farm to Table partnered to conduct the study, which was completed by researchers in the UK College of Agriculture, Food and Environment's Community and Economic Development Initiative of Kentucky and Department of Agricultural Economics.
"We saw a need to more accurately quantify the institutional demand for local food products in the Bluegrass region, so we can provide farmers with specific information, such as what types of products are in demand and at what prices. With that information they can evaluate new market opportunities," said Ashton Potter Wright, local food coordinator for Lexington-Fayette Urban County Government and manager of Bluegrass Farm to Table.
Wright said the study likely underestimates the true demand, but it will provide a baseline to measure efforts to build a more vibrant local food economy.
Researchers conducted 49 in-depth interviews of restaurateurs, retailers, procurement agents for institutions and hotels, farmers market staff, processors and distributors. Restaurants are currently the largest purchasers of Kentucky farm products, spending $5.5 million. In 2014, retailers, hotels and institutions, including schools, universities and hospitals, purchased $3 million, $1 million and $1.5 million, respectively.
Jairus Rossi, lead author of the study, said his research shows the local food system is an emerging part of Lexington's economic and social well-being. Interviews found that purchasers across the board expect growth of at least 5 percent a year. It is probable that restaurants and institutions could increase local purchasing by 10 percent annually, while direct-to-consumer farms speculate they could see even more growth, perhaps as high as 15 percent a year, because of increased consumer familiarity with direct markets.
"Most people saw this growth as coinciding with the emergence of a different kind of consumer," Rossi said. "I think it's about people appreciating craft processes—in beer, in bourbon, in food—in knowing where your food comes from, how it's produced and in having opportunities to experience the transformation of food from farm to plate. The movement is definitely consumer- and chef-driven."
Respondents across the board noted that the ability of institutions to influence demand based on their public visibility and large-scale supply requirements could have a significant impact on the local food system. The study found this large potential demand is both a promise and a challenge for product sourcing.
The interviews turned up four major issues that currently result in unmet demand.
Generally, Kentucky farmers at present cannot provide a sufficient and consistent supply of produce and protein that meets a certain price point and quality standard.
Price disparities between local and nonlocal products are a major barrier. Respondents identified the absence of critical food system infrastructures as the reason for this price disparity, though there was no consensus over what would help.
"There are some thoughts among interviewees that it is difficult for smaller farmers to get their products to the appropriate markets," Rossi said. "Most of the restaurateurs I spoke with were fine with deliveries by multiple farmers, but they also mentioned they would prefer something more efficient. They want to make it work, however, because they recognize many local products are extremely high quality, and they want to support the local food system."
There is also some concern that consumers do not appreciate the limits of seasonality—what products can be acquired locally at certain times of the year and why certain production methods to provide products out of season may command price premiums.
There is also a need for improved communication practices, which can help producers and buyers understand each other's expectations in quality, price, quantity and product presentation. The study found that local food coordinators and other advocates are crucial to improvement in this area.
"We found this study valuable in trying to understand the existing gaps and the emerging connections in the local food system, and how the system can be strengthened through very tangible interventions," Rossi said.
A summary of the study can be found at http://cedik.ca.uky.edu/files/final_fayette_co_lfd_exec_summary.pdf
---
Community Development
Crops
Economics
Research
Sustainability