UK takes ag education global
UK takes ag education global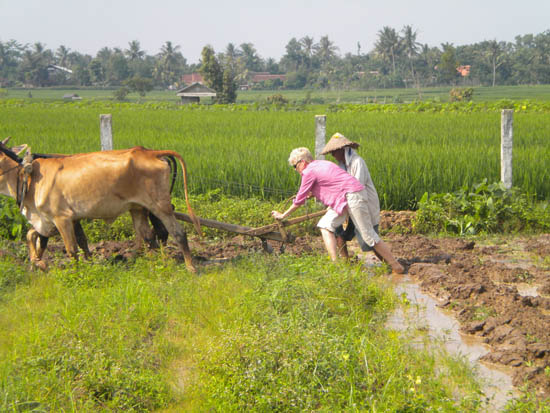 LEXINGTON, Ky.—
In Indonesia, farmers use cows to plow their rice paddies, growers plant pineapples by hand at one of the largest pineapple plantations in the world and picking coffee beans by hand turns out to be extremely difficult work. Those were some of the images local teachers, University of Kentucky College of Agriculture professors, and UK Cooperative Extension agents took away from a recent trip to the island nation in Asia—the fourth most populous country and the 16th largest economy in the world.
Despite a strong and growing locavore movement in the U.S., agriculture and the food industry are still highly globalized industries. To be prepared for good jobs in these fields, students need to develop global awareness and competency— an awareness that shouldn't begin just at the college level, said Keiko Tanaka, associate professor in the UK College of Agriculture and director of the UK Asia Center. Middle and high school students should be introduced to it, too.
That was Tanaka's motivation behind developing a three-year project on global agriculture and food that integrates research, instruction and outreach.
"The overarching mission of this project is to improve agriculture education in a broader sense to develop students' global awareness," she said. "Industry is not getting enough people with both understanding about and skills in the global economy. There are a lot of employment opportunities for those who understand those very complex regulatory certification systems in a global arena and those who understand the complex issues on natural resources sustainability questions."
During the first year of the project, five UK Ag faculty members each developed an online learning module. Topics included regulations and certifications in international trade; food safety and health; sustainable agriculture and resource management; local community development; and world hunger and food justice.
Now in the second year of the project, those faculty members have incorporated their modules into a professional development program for agricultural education teachers and community agricultural educators.
The project builds on UK College of Agriculture's long time partnership with Indonesia—a partnership that goes back to the 1950s. Project participants spent nine days traveling around the island country, hosted by faculty from the University of Lampung. The idea was to expose teachers to an entire suite of agricultural systems and problems, as well as to visit some schools whose curricula include agricultural education.
They also toured a pineapple plantation (Indonesia is the world's largest exporter of pineapples), helped harvest coffee, (the country is the fourth largest producer) and talked to local farmers about their communities and how things have changed over time.
Krista Jacobsen, UK assistant professor in horticulture, is one of the five faculty members who have created learning modules. Her module focuses on sustainable agriculture and resource management.
"On our trip, we talked about sustainability, food safety, community development, economic globalization and world hunger," she said.
Jacobsen said that despite the differences between the two countries, there is much that can be shared and learned by examining their agricultural system.
"The degree of diversification is amazing," she said. "They have a cash crop—it might be coffee or it might be fruit production—but they are diversified beyond that, because that's part of how the agricultural ecosystems are managed. These are largely subsistence farmers. Traditionally they're pretty diverse, because they might have a market problem or a crop failure (that they have to ride out)."
For Tracy Poff, it was the trip of a lifetime. Poff teaches biology and chemistry at Locust Trace AgriScience Farm, part of the Fayette County school system, and she believes it will make her a better teacher.
"A lot of examples and real-world situations I give my students are stories I've read about in books myself," she said. "So to have the opportunity to go somewhere and to see rice farms or to walk on a pineapple plantation or to go and help harvest coffee beans—to have that experience and know what it looks like and what it smells like and what the people are like, and to have personal stories to be able to share with my students is just so invaluable."
Rebecca Russell, plant and land science teacher at Locust Trace, has always been interested in how developing countries use their resources to feed their people.
"They don't have mechanization. (At Green Giant's pineapple plantation) they plant all the pineapples by hand. We're talking tens of thousands of acres. I was shocked to hear that," she said.
Project member Carol Hanley, director of the Environmental and Natural Resource Issues Task Force, a component of the UK Cooperative Extension Service, also went on the trip. She and her staff are creating Science-in-a-Box kits to help Kentucky schools share some of their labs with their Indonesian counterparts. Poff said Locust Trace is trying to align a sister school relationship with SMK Metro School, an agricultural high school in Sumatra, by linking teachers for the exchange of ideas and content over the Internet.
Poff discovered she had much in common with the Indonesian educators she met on the trip.
"We found ourselves talking a lot about education," she said. "So many of the issues that we have in our schools in America are the exact same issues they are having in their schools in Indonesia. Some of the students, the labs that they are doing—they're really similar."
Jacobsen will be teaching an education abroad course, "Tropical Agroecology and Sustainable Development," in summer 2013, when she will return to Indonesia with her undergraduate students.
"The more we can prepare future students of agriculture to be global citizens who understand the common problems that exist in a different context, the better future problem-solvers they are going to be," she said.
Tanaka said a program like this is vital for the success of students in a shrinking world.
"The UK College of Ag wants to lead; we want to make sure our graduates succeed. This is the kind of training we need to provide," she said.
---
Community Development
Crops
Economics
Environment
Horticulture
Sustainability