University of Kentucky researcher is a driving force in tar spot research for corn producers
University of Kentucky researcher is a driving force in tar spot research for corn producers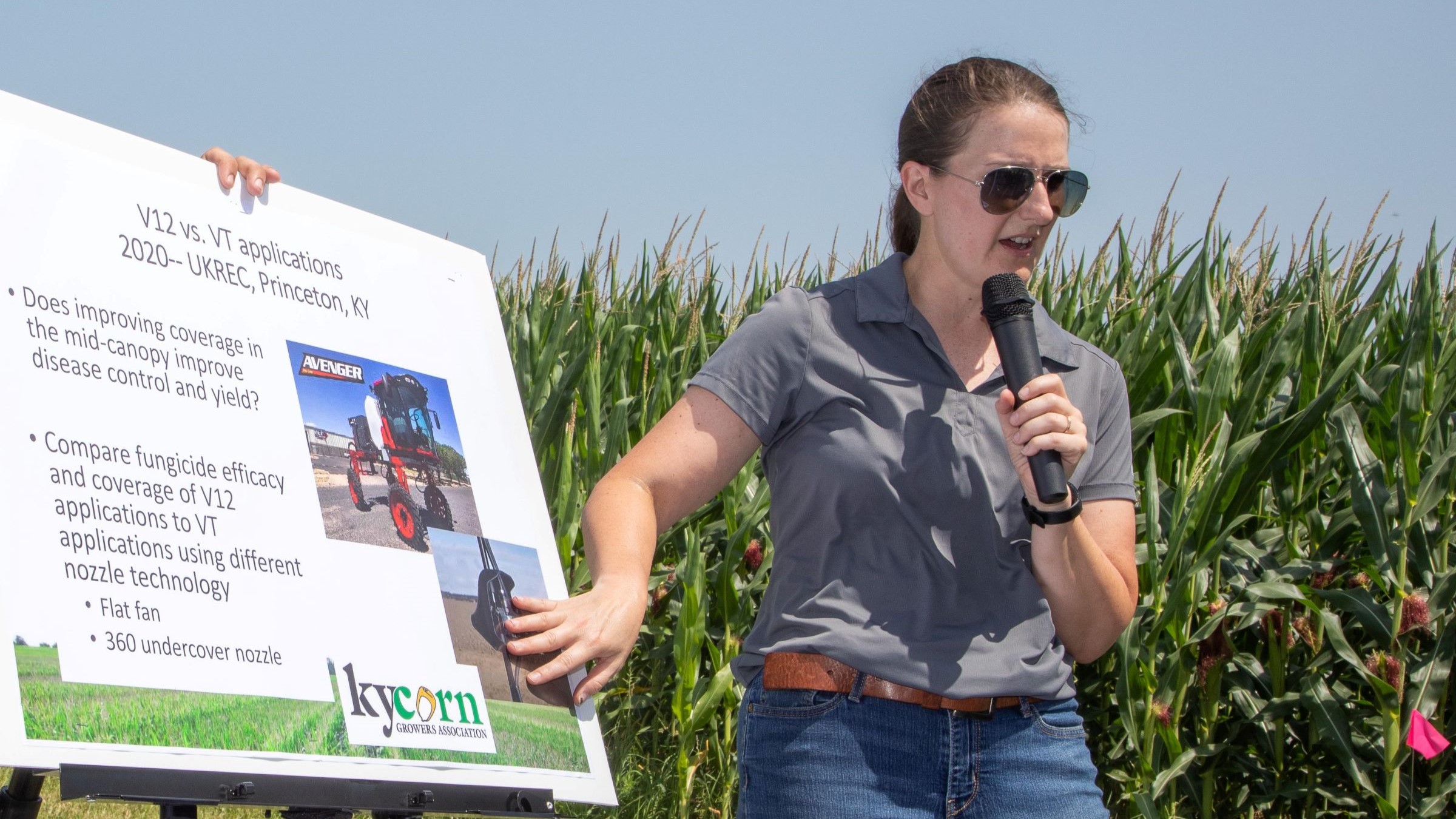 Lexington, Ky.—
A University of Kentucky Martin-Gatton College of Agriculture, Food and Environment researcher is helping corn producers nationwide avoid crop losses due to a rising, understudied disease.  
Kiersten Wise, a UK Department of Plant Pathology researcher, is part of a multi-university research team that developed predictive models that could revolutionize the management of Phyllachora maydis, the fungus responsible for tar spot. 
The research team's paper, "Uncovering the environmental conditions required for Phyllachora maydis infection and tar spot development on corn in the United States for use as predictive models for future epidemics", was published in Scientific Reports,  
Since the first national detection of tar spot in 2015, the disease has posed a significant threat to corn yields, particularly in the Midwest. Wise is part of the team developing a critical response to this emerging challenge, providing vital insights that could protect one of the nation's most important crops.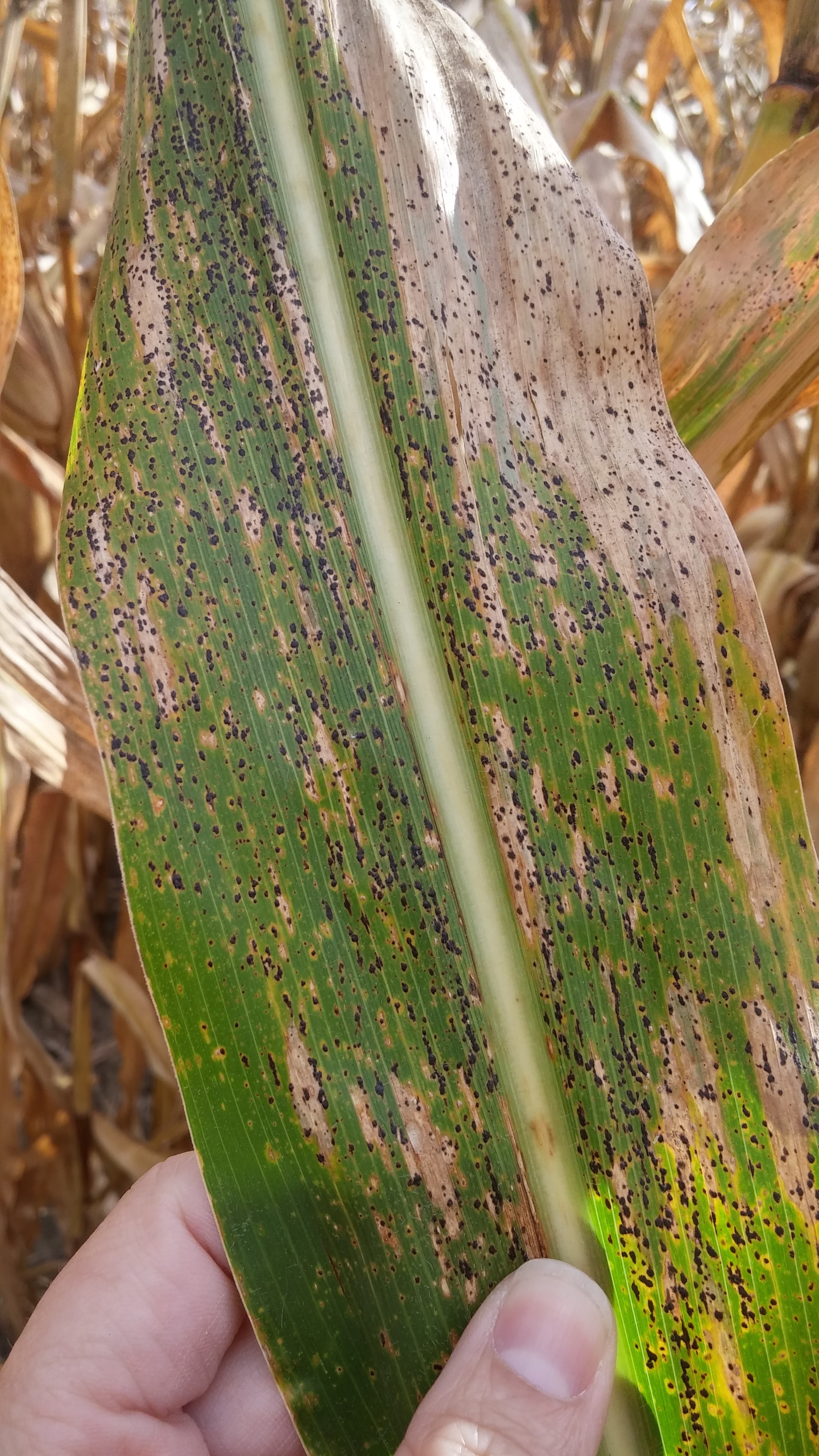 "Our national research group has been analyzing the environmental factors that contribute to the development of tar spot," Wise said. "We're excited that our findings are leading to predictive models, allowing for in-season management decisions, potentially saving millions in crop value." 
The study leverages a network of trials across multiple states as part of the National Predictive Modeling Tool Initiative, funded by USDA-ARS. Each state conducts similar experiments individually to ensure consistency and accuracy. Wise's research trials were conducted at the UK Research and Education Center in Princeton, Kentucky. This collaborative approach is uncovering how different environmental conditions, such as temperature and humidity, affect tar spot's development and spread. 
The study's main results, conducted from 2018 to 2022, show temperature is the crucial variable that drives tar spot development. A 30-day period with average air temperatures between 64 and 73 degrees Fahrenheit (18 and 23 degrees Celsius) favors disease development. Moisture (measured by relative humidity, dew point and leaf wetness duration) early in the infection cycle can aid in disease development. However, high humidity and moisture at hotter temperatures can inhibit tar spot development.  
Using these insights, the researchers created predictive models to pick out the most important environmental predictors from a group of weather variables. 
By combining various logistic regression models into one unified model, the research team developed a more powerful tool, enhancing their predictions' reliability and accuracy. Additionally, they employed machine learning techniques, which are particularly effective handling ecological data. 
After the models were tested, researchers found they could predict tar spot development up to 85% of the time. All models supported that mean temperature, relative humidity and leaf wetness were the most important factors in predicting disease development.  
These findings were incorporated into the existing prediction smartphone application Tarspotter, developed at the University of Wisconsin-Madison. 
The research has produced promising results for Kentucky, where tar spot has been detected but has yet to significantly impact corn yields.  
"Our findings are somewhat reassuring for Kentucky corn producers," Wise explained. "The environmental conditions here, mostly the higher temperatures and high humidity during the growing season are not typically the optimum conditions for tar spot development." 
These predictive models can signal when fungicide applications would be most effective, offering a proactive defense against the disease. This is particularly crucial given the potential for tar spot to cause yield losses of up to 60 bushels per acre in conducive conditions. 
"We are still learning about the potential impact of tar spot in Kentucky," Wise said. "This research helps us understand the disease and provides models that will benefit Kentucky farmers and corn growers nationwide." 
This material is based upon work supported by the Agricultural Research Service, U.S. Department of Agriculture, under Agreement No. 58-0206-0-188. Any opinions, findings, conclusions or recommendations expressed in this publication are those of the author(s) and do not necessarily reflect the view of the Department of Agriculture.
– 30 –   
The Martin-Gatton College of Agriculture, Food and Environment is an Equal Opportunity Organization with respect to education and employment and authorization to provide research, education information and other services only to individuals and institutions that function without regard to economic or social status and will not discriminate on the basis of race, color, ethnic origin, national origin, creed, religion, political belief, sex, sexual orientation, gender identity, gender expression, pregnancy, marital status, genetic information, age, veteran status, physical or mental disability or reprisal or retaliation for prior civil rights activity.    
---
Crops
Horticulture
Research