Historic $100-million gift will catapult UK College of Agriculture, Food and Environment
Historic $100-million gift will catapult UK College of Agriculture, Food and Environment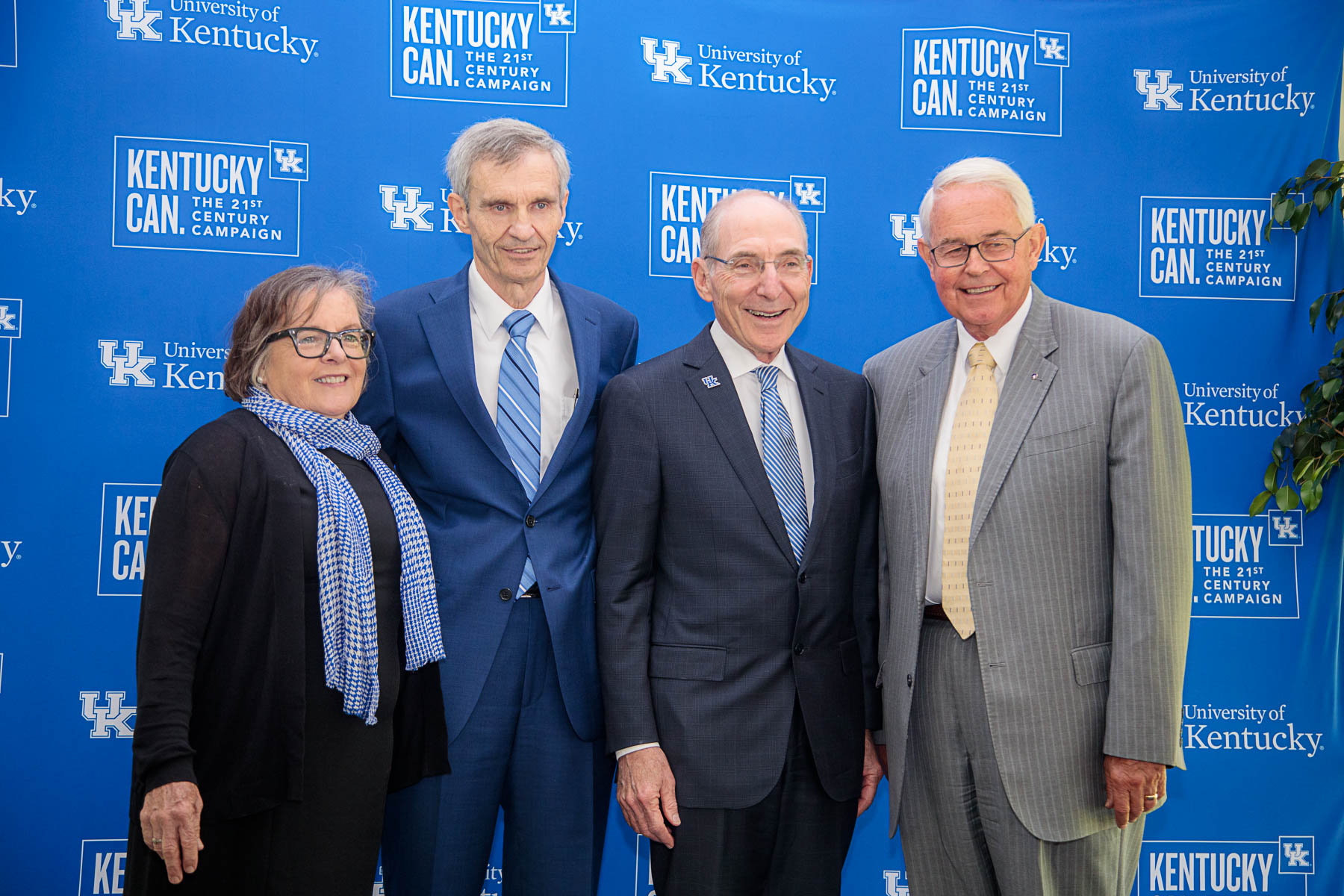 Published on May. 25, 2023
LEXINGTON, Ky.—
Continuing a "legacy like no other," late University of Kentucky alum and former trustee Carol Martin "Bill" Gatton bestowed a transformational gift of $100 million to the UK College of Agriculture, Food and Environment through The Bill Gatton Foundation.
The gift, which was announced on May 25 by UK and the foundation, is contingent upon UK Board of Trustees' approval at its June meeting. It is not only the largest to the university in its nearly 160-year history but is also believed to be the largest to a college of agriculture in the United States.
To honor Gatton's parents, Edith Martin and Harry W. Gatton, Sr., the college will be renamed as the Martin-Gatton College of Agriculture, Food and Environment.
"This is a transformational gift that will have a profound impact on CAFE and the University of Kentucky," said UK President Eli Capilouto. "It will be a cornerstone in our efforts – and our singular mission – to advance Kentucky in everything that we do. Like Mr. Gatton did, we dream of a Kentucky tomorrow that is healthier, wealthier and wiser than it is today. This gift reflects his profound belief in this institution to be a partner for progress in our capacity and commitment to advance Kentucky."
Gatton, who passed away in April 2022, was a lifelong philanthropist and supporter of UK. He was a 1954 graduate of the university's College of Commerce, and he went on to become an incredibly successful businessman, entrepreneur and investor.
Gatton's gift to CAFE is the latest in a series of generous donations that have transformed the university, including record-breaking gifts to the Gatton College of Business and Economics, the university's Gatton Student Center and scholarships for students with unmet financial need through the UK LEADS initiative.
Gatton's impact on the University of Kentucky exceeds $180 million. He is the university's single largest donor.
Nancy Cox, UK vice president for land-grant engagement and UK CAFE dean, expressed gratitude for the generosity of the Bill Gatton Foundation.
"Our college has served Kentucky and beyond for over 150 years with 'user-inspired science,' aiming to push boundaries in education and service," Cox said. "We are grateful for the confidence placed in us by the Gatton Foundation, which will allow us to both accelerate our land-grant mission and create new programs to serve our citizens."
Cox said the college will form a task force of faculty and staff members who will consider how the gift will be used to support the Gatton Foundation's vision for scholarships, academic programming, infrastructure and research.
Gatton's background
Gatton's strong ties to agriculture trace back to his childhood on a farm in Bremen, Kentucky, in Muhlenberg County. From an early age, he developed a strong work ethic, selling roadside produce during summers and gradually expanding his sales and clientele. Gatton's knack for business was evident even during his time as a student, as he began selling cars at a local dealership, a venture that later contributed significantly to his success.
While Gatton's agricultural background primarily stems from his father's side of the family, his mother, Edith Martin, came from a banking lineage with deep roots. Drawing inspiration from both his parents and his firsthand experiences on the farm, Gatton acquired invaluable knowledge about entrepreneurship, leadership and the value of hard work. During his freshman year at UK, he put these skills into action and served as the state president of the Kentucky FFA, exemplifying his commitment to applying his agricultural expertise in practical ways.
The generous gift, as recognized by Bill Gatton Foundation Trustee Danny Dunn, is a testament to Gatton's unwavering belief in the transformative power of higher education.
"Mr. Gatton believed that investing in the University of Kentucky was investing in Kentucky's future," said Dunn. "This gift marks a significant milestone for the foundation, representing its first major donation since his passing. This gift symbolizes the foundation's commitment to honoring Mr. Gatton's passion for Kentucky and his desire to support its agricultural community as an essential way to advance this state."
Former UK Vice President for Philanthropy and Alumni Engagement, Mike Richey, who was a close friend and confidant of Gatton's, said this gift from the foundation would have held immense importance to Gatton.
"For the last few years of his life, Mr. Gatton never wavered in his interest and desire to do something philanthropic for agriculture in Kentucky through the College of Agriculture, Food and Environment," Richey said. "This wonderful gift shows he has done that very thing."
---
4 H Youth
Alumni
Biosystems Ag Engineering
Community Development
Crops
Economics
Entomology
Environment
Equine
Extension
Family Consumer Sciences