University of Kentucky researcher spearheads efforts combatting antimicrobial resistance
University of Kentucky researcher spearheads efforts combatting antimicrobial resistance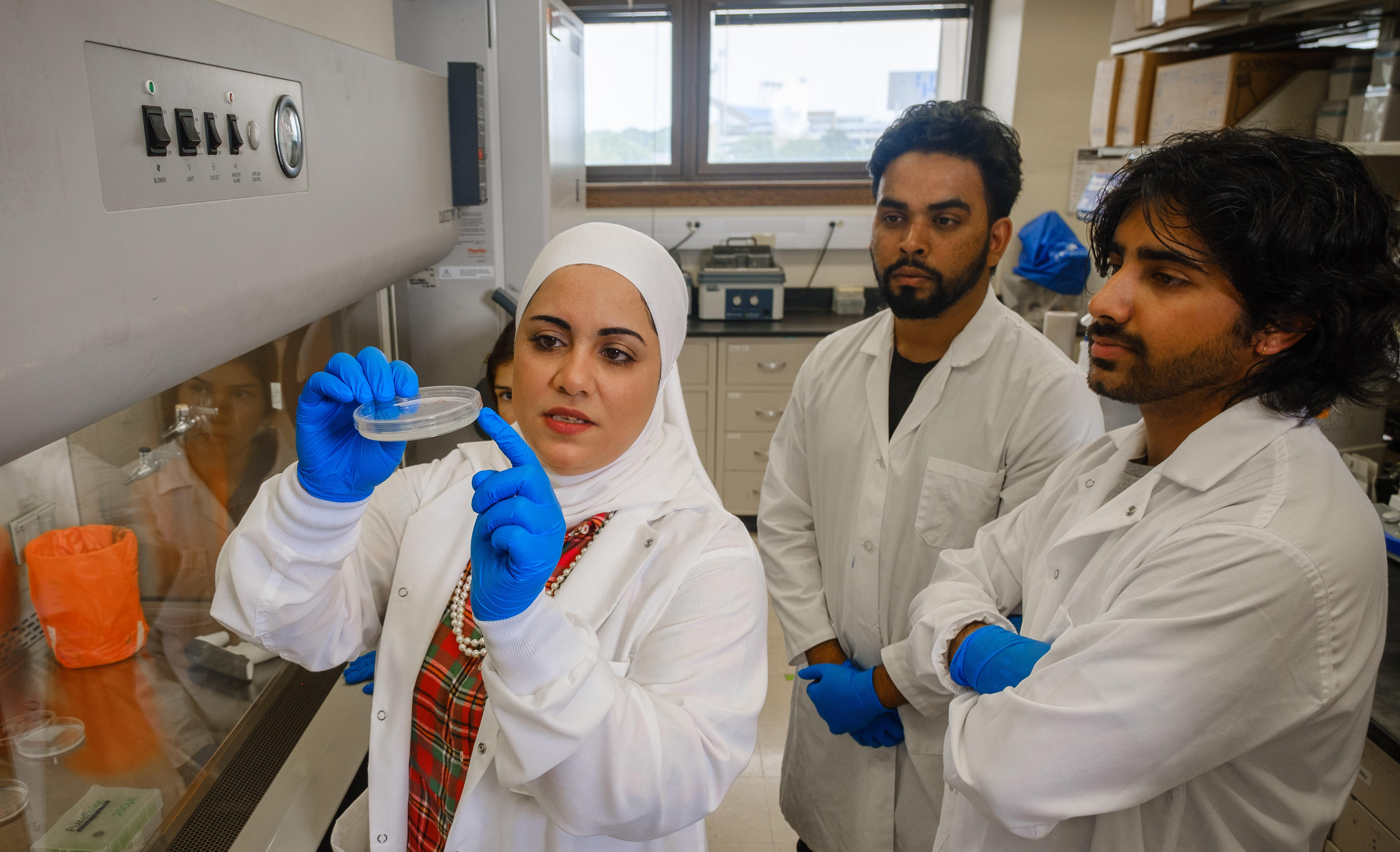 Lexington, Ky.—
The World Health Organization ranks antimicrobial resistance as one of the top 10 global public health threats, with an estimated annual 1.27 million mortality toll worldwide and a $100 trillion economic impact by 2050. According to the Centers for Disease Control and Prevention, more than 2.8 million infections with antibiotic-resistant bacteria annually occur nationwide.  
Antibiotic-resistant microorganisms have emerged due to excessive antibiotic use in humans, animals and the environment interface. The spread of these strains and their resistant determinants could threaten antibiotic efficacy.  
A University of Kentucky researcher has been working to help combat the problem. Yosra Helmy, an assistant professor in the UK Martin-Gatton College of Agriculture, Food and Environment, Department of Veterinary Science, believes there is an urgent need to develop novel antibiotic alternative strategies to control resistant bacterial pathogens. 
"Antimicrobial resistance is not a new problem, but it is growing," Helmy said. "To help reduce antibiotic resistance, we must focus our efforts on the One Health approach, which brings together expertise from humans, environment and animal health areas." 
Helmy authored a recently published study in the Journal of Antibiotics, which reviewed antibiotic alternatives such as probiotics, quorum sensing inhibitors, small molecules, antimicrobial peptides, essential oils and vaccines, among other possibilities to mitigate resistant bacterial pathogens. The study highlighted each approach's advantages and limitations and suggested combining different methodologies to effectively control bacterial pathogens and reduce the risk of antimicrobial resistance. 
Helmy explained that antimicrobial resistance occurs due to the overuse and misuse of antibiotics or using them as growth promotors in food animals. Animals can then spread resistant bacteria to humans through direct contact or food. When bacteria develop the ability to resist the effects of antibiotics, these drugs become less effective in treating infections, leading to more severe and prolonged illnesses and higher healthcare costs.  
"Our efforts address some of the biggest challenges in antimicrobial resistance, such as tracking the antimicrobial resistance genes and their transmission dynamic, developing innovative diagnostic tools and exploring novel antibiotic alternatives," she said. 
By experimenting with non-antibiotic approaches, researchers seek novel treatments for active infections and a strategy to curb future resistance without exerting selection pressure on the bacteria during treatment. 
"Our team has successfully discovered several antibiotic alternatives with the potential to control several foodborne pathogens as well as pathogenic bacteria in equines," Helmy said. "Our next step will be further developing our identified drug candidates for animal and human use." 
---
Crops
Horticulture
Research