University of Kentucky's DNYay! genetics outreach program engages high school students
University of Kentucky's DNYay! genetics outreach program engages high school students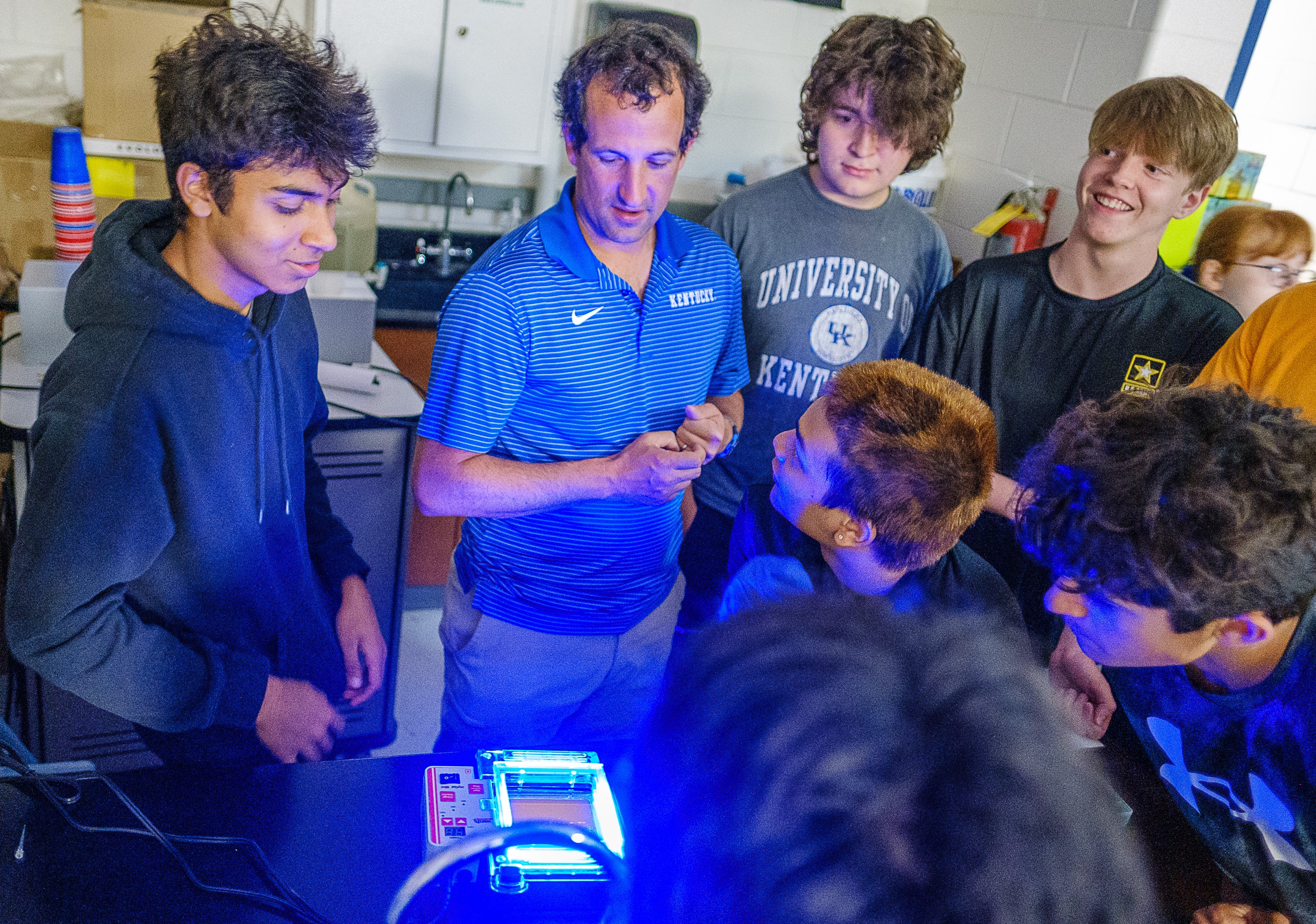 Lexington, Ky.—
A University of Kentucky entomologist is embarking on a quest to help high school students unlock the mysteries of genetics. The project, led by assistant professor Nicholas Teets, brings advanced genetics techniques and hands-on learning experiences to the classroom, fostering students' interest in science. 
The outreach program, coined "DNYay!," offers a comprehensive curriculum encompassing various engaging activities and experiments, giving students firsthand experience in the field. This year, one of several activities included DNA sequencing. Participants collected insects from around the school, sequenced their DNA, then used bioinformatic analyses to investigate databases and decipher the genetic information encoded in their insect samples. The students then collaboratively shared their findings. 
With support from the National Science Foundation, Teets seized the opportunity to disseminate research findings and engage the local community. The program has created a steady increase in participation since its inception three years ago. Each year, students around the city gather at a local high school for the program's educational opportunities.  
"In addition to sequencing DNA from wild insects, the students love exploring genetics through mutant fruit flies we keep in the lab," Teets said. "Students examine whether these flies inherit specific traits, using the same strains that Thomas Hunt Morgan, a pioneer in genetics, used in his experiments. Another popular activity is a taste receptor experiment, which involves testing the ability to taste the chemical compound phenylthiocarbamide. This interactive exercise helps students understand human genetic variation and its implications." 
As the week-long event progresses, students learn about ecological traits and their genetic underpinnings. Participants simulate natural selection by role-playing as birds with different beak types, attempting to pick up food items of varying characteristics. This illustrates the concept of natural selection and how genetic variation contributes to evolutionary processes. 
Megan Johnston, a Agricultural and Medical Biotechnology program senior, was one of 10 UK Martin-Gatton College of Agriculture, Food and Environment students assisting. 
"I really like scientific outreach and know when I first started, it was great to have people there for me," she said. "Now, I like being able to help high school students get involved in technology and see the fun of science." 
The program also exposes the participants to different careers in genetics. The high school students conduct research and interact with professionals from various genetic fields, gaining insights into their diverse opportunities.  
"Students develop a deeper appreciation for genetics and its real-world applications by bridging the gap between theoretical knowledge and practical application," Teets said. 
Teets hopes to continue growing the program, reaching more students and expanding collaborations with other educational institutions nationwide.  
"Participants gain a solid foundation and passion for scientific exploration by integrating cutting-edge genetics techniques into high school curricula," he said. "It's refreshing to see these students' excitement for genetics." 
Research reported in this publication was supported by the National Science Foundation under Award Number 1826689. The opinions, findings and conclusions or recommendations expressed are those of the author(s) and do not necessarily reflect the views of the National Science Foundation. 
---
Entomology
Events
Research
Students