John Grove named director of UKREC
John Grove named director of UKREC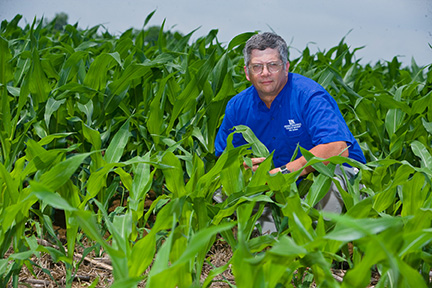 LEXINGTON, Ky.—
A soil scientist in the University of Kentucky College of Agriculture, Food and Environment is the new director of UK's Research and Education Center in Princeton. John Grove assumed the leadership position Dec. 1.
The position includes oversight of all the center's facilities and equipment, long-term planning and programming and represents the interests of the center to stakeholders. In addition to leading the center, Grove will continue his research on the chemical and physical management of agronomic soils.
"As a longtime faculty member in the college, John Grove understands the unique role the UKREC fulfills in the state's farming community and is highly qualified to step into this leadership role," said Rick Bennett, associate dean for research and director of the Kentucky Agricultural Experiment Station.
A native of southern Michigan, Grove received his bachelor's and master's degrees from Michigan State University. He earned his doctorate at the University of Georgia in 1980. He has been on the UK faculty since 1981, with research and teaching responsibilities. While he has been based out of UK's main campus in Lexington, Grove has conducted research at the UK Research Farm in Princeton since 1986.
"I'm looking forward to the new responsibilities and working with folks at the station and stakeholders who use the center as their information resource," Grove said.
He replaced Lloyd Murdock, who was serving as interim director.
---
Biosystems Ag Engineering
Crops
Economics
Entomology
Extension
Horticulture
Livestock
Research