Kentucky agricultural economy improves
Kentucky agricultural economy improves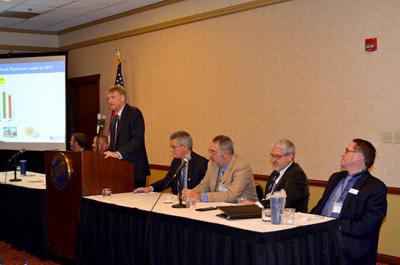 LOUISVILLE, Ky.—
Kentucky agricultural cash receipts and net farm income rebounded in the past year from 2016 levels, but are still well below record levels set earlier in the decade.
Agricultural economists from the University of Kentucky College of Agriculture, Food and Environment are projecting 2017 farm cash receipts to be $5.6 billion, which is a 3.5 percent increase from 2016. Preliminary indications also point to a modest increase in net farm income from 2016 levels.
"Higher crop yields, improved livestock prices and fairly stable input costs helped Kentucky agriculture and Kentucky farm incomes rebound in 2017," said Will Snell, UK agricultural economist. "For 2018, assuming a normal growing season, Kentucky ag cash receipts are expected to be slightly higher ($5.7 billion) with modest gains in poultry, horses and soybeans, offsetting expected losses in tobacco, corn and cattle."
The state is largely following national trends, with U.S. farm incomes and cash receipts also seeing a slight rebound but still well below record-setting levels.
"The U.S. agricultural economy rebound was primarily in response to a strong export market, which was up 8 percent in 2017," Snell said. "Any future disruption in trade will likely put additional downward pressure on agriculture prices in the midst of ample global supplies."
Without a major supply shock, prices for most agricultural commodities will likely remain relatively low in 2018 in response to abundant global grain supplies, growing meat supplies and potentially a stronger U.S. dollar.
"Despite the slumping farm economy, the overall balance sheet for U.S. agriculture as a whole remains relatively strong compared to the farm crisis days of the early 1980s," Snell said. "However, available cash flow and working capital for lower-tiered managers and some highly leveraged producers and young farmers remain a concern for bankers, especially if the current economic conditions linger much longer."
Poultry remains Kentucky's No. 1 agricultural commodity, with wholesale broiler prices up from 2016 levels and the industry largely recovered from the economic effects of recent years' avian influenza outbreaks. Poultry comprised 20 percent of all 2017 Kentucky agricultural sales. Equine, soybeans, cattle and corn followed.
The equine market recovered from the global recession and stabilized in 2017. With early indications of strong 2017 yearling and breeding sales, the equine industry is expected to exceed $1 billion in Kentucky farm receipts and have continued growth into 2018.
Improved livestock prices enabled sales growth in the industry in 2017. Calf prices are roughly $30 higher per hundredweight than they were in 2016.
"Beef producers are continuing to grow their herds, but it has likely slowed some," said Kenny Burdine, UK agricultural economist. "Production increases for all major meats will put pressure on beef and cattle prices in 2018."
U.S. growers are expected to produce record yields in corn and the second highest yield for soybeans. This resulted in the second largest crop for each commodity, even with a reduction in corn acres.
"Early indications for 2018 will have prices remaining soft due to increased supplies, with farmers potentially replacing some corn acres with soybeans," said Todd Davis, UK agricultural economist. "This price scenario could change if a significant weather event occurs in South America during the 2018 growing season."
A better growing season resulted in a higher quantity and quality crop for both burley and dark tobacco farmers. It also boosted the value of the crop to around $350 million, which is up significantly from $283 million in 2016.
Kentucky produce markets were generally stronger in 2017 with late summer and fall crops seeing significant price increases due to the effects of Atlantic hurricanes. The nursery industry continues to see steady increases as it recovers from lows of the recent recession.
"The accelerating local food movement and demand for value-added products provides additional opportunities for growth for Kentucky growers, but labor uncertainties remain a major concern and could hinder future growth," said Tim Woods, UK agricultural economist.
Forestry contributed $14.5 billion to Kentucky's economy in 2017. Sawmilling experienced the largest increase of any of the forestry sectors, up 14 percent from 2016.
"Exports and high U.S. demand for white oak and tie logs are expected to remain strong in 2018 and keep overall timber prices up," said Jeff Stringer, extension professor of hardwood silviculture and forest operations in the UK Department of Forestry and Natural Resources. "Pulpwood markets remain sluggish but potential re-opening of the Wickliffe pulp and paper plant may positively affect markets in Western Kentucky."
For the entire outlook, visit the UK Department of Agricultural Economics website at http://www.uky.edu/Ag/AgEcon/pubs/extoutlook17-18.pdf.
---
Crops
Economics
Events
Extension
Forestry
Horticulture
Livestock
Research