Microprocessor workshop opens the door to entrepreneurship
Microprocessor workshop opens the door to entrepreneurship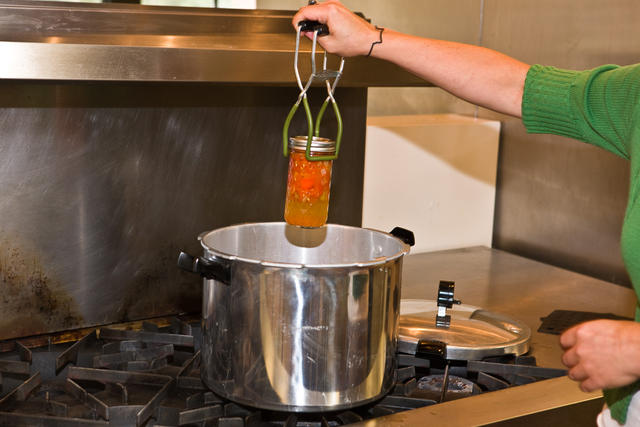 LEXINGTON, Ky.—
For years, Ohio County resident Paula Lucas sold her homemade breads and relishes at area farmers markets. Due to the popularity of her products, she opened Mom's Kitchen, a deli and bakery, in Fordsville.
She couldn't have taken that first step without becoming a certified homebased microprocessor through the University of Kentucky Cooperative Extension Service.
"Becoming a homebased processor enabled me to sell my baked items, and the microprocessor workshop enabled me to can my vegetables and sell them at the farmers market," she said. "My husband and I purchased the building in 2010 because my work was overtaking my home."
It's been nearly a decade since House Bill 391 became law. This law allows Kentuckians, who meet certain criteria, to sell their value-added products containing fruits, vegetables, nuts and herbs on their farm, at farmers markets registered with the Kentucky Department of Agriculture and at roadside stands certified by Kentucky Farm Bureau.
Lucas is one of 739 Kentuckians who have completed a UK Cooperative Extension Service homebased microprocessor workshop since 2004.
Homebased processors sell low-risk products like breads, jams and jellies and must register each year with the Kentucky Department of Public Health's Food Safety Branch. Homebased microprocessors, who sell higher risk items such as salsas, relishes and other canned vegetables, must attend a microprocessor workshop and have their recipes approved to become certified before they can sell their products. These workshops, led by Sandra Bastin, UK extension professor and interim chair of the Department of Dietetics and Human Nutrition, provide information on House Bill 391, food safety, home canning principles and the microbiology of preserved foods.
"The University of Kentucky has a long tradition of improving the lives of Kentuckians," Bastin said. "The Homebased Processor and Microprocessor program gives farmers the opportunity to perfect their value-added products and learn the art of selling at farmers markets before investing in becoming a commercial processor. Paula Lucas is one of around 25 entrepreneurs who got their start from the homebased program and moved into the commercial arena after a successful venture at the farmers market."
As of September, 619 homebased processors and 72 homebased microprocessors were registered with the Kentucky Food Safety Branch to sell their products.
As her business has progressed, Lucas has continued to work with college specialists. In December, she attended a Better Food Process Control School hosted by the UK Food Systems Innovation Center.  The school is required by the Food and Drug Administration for individuals who wish to process acidified, canned or low-acid foods in a commercial setting. Joe O'Leary, UK extension associate professor and thermal process authority in the Department of Animal and Food Sciences, is testing several relish recipes for her. She hopes to register these recipes with the FDA so she can sell them at her business. 
The UK Cooperative Extension Service has several homebased microprocessor workshops scheduled for this year. To find out the dates and locations of these workshops and for more information about the program, visit the UK Homebased Processing and Microprocessing Web page, http://www.ca.uky.edu/agcomm/micro/.
---
Community Development
Crops
Economics
Extension
Family Consumer Sciences
Food Science
Nutrition