Mountain Ag Week is Mountain Proud
Mountain Ag Week is Mountain Proud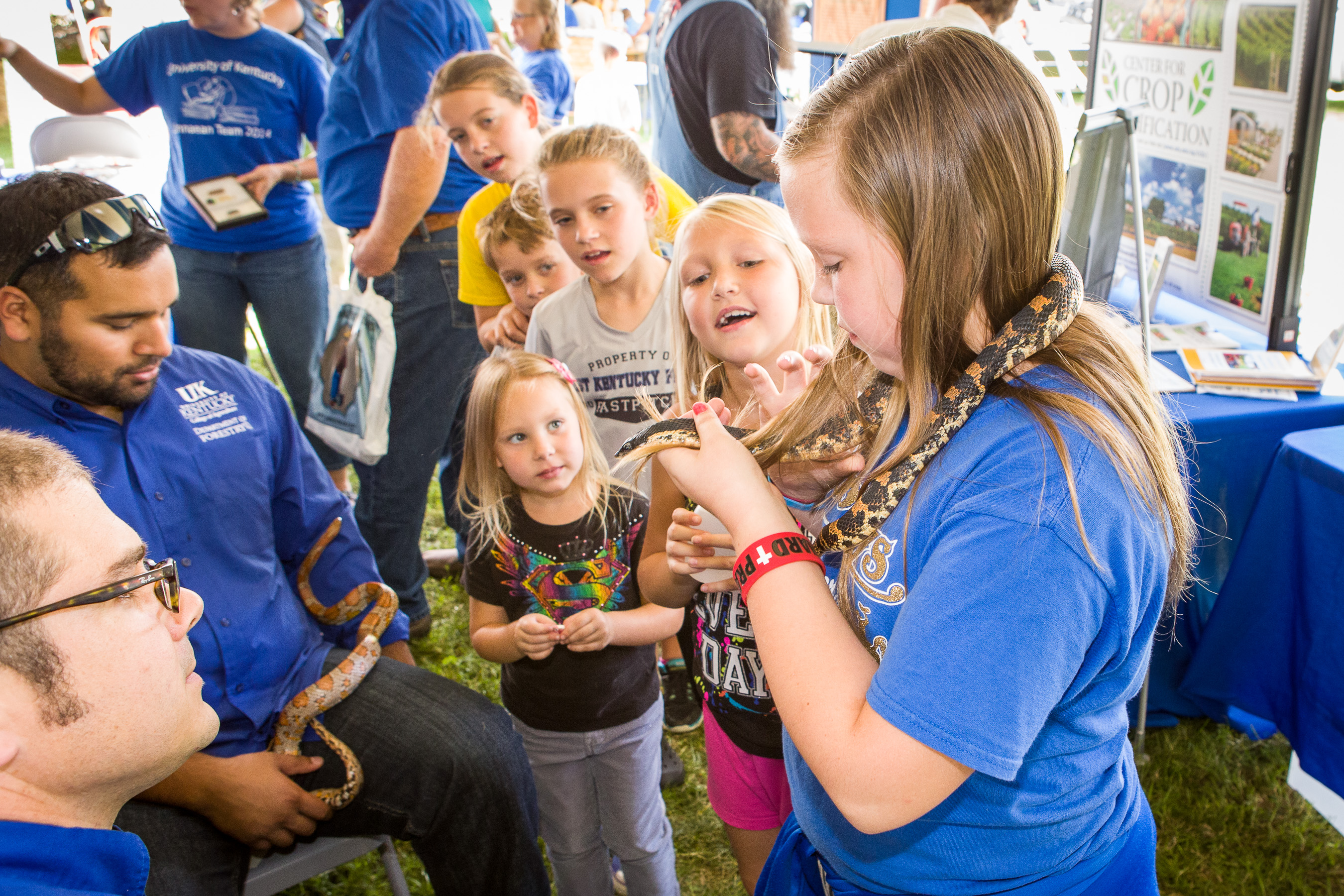 QUICKSAND, Ky.—
– This year, Mountain Ag Week is putting a focus on taking pride in the opportunities and resources of Appalachia. The University of Kentucky Robinson Center for Appalachian Resource Sustainability is hosting events Sept. 27- Oct. 1 to celebrate
The week kicks off with the Youth Natural Resources Field Day Sept. 27. Fifth- and sixth-graders will meet at the center in Quicksand and choose from topics including water quality, energy, snap circuits, physical activity, food and nutrition, birds of prey and a physics zoo. Ninth- through 12th-graders will meet at UK's Robinson Forest and choose between a wildlife or forestry track. The wildlife track offers interactive learning about Kentucky reptiles and amphibians, furs and tracks of Kentucky wildlife, trapping and tracking wildlife and wildlife habitat management. The forestry track includes tree and disease identification, wood magic, forest water quality, timber harvesting and log grading.
On Sept. 28 and 29, the center will turn its focus toward preschool and kindergarten students. Hundreds of area children will get an opportunity to experience an interactive, pumpkin-themed day and take home a pumpkin.
The entire week leads up to the Mountain Proud Field Day from 10 a.m. to 2 p.m. Oct. 1. Registration begins at 9 a.m. EDT.
"The week's extensive programing is about showcasing what's great about the opportunities in the Appalachian Region," said David Williams, the center's director. "We have something for every age group, and we want to show everyone the promising future for sustainable economic development in agriculture and forestry in this region."
The field day will offer several hayride tours and workshops including a hayride tour with an overview of hemp and chia research, tree ID planting and forage variety trials; a horticulture "kale smoothie" hayride tour; a "Saddle Up Safely" workshop with horses; a bird feeder workshop at the Wood Utilization Center, and a History of Quicksand hayride with local historian, Stephen Bowling.
The center will offer Master Logger continuing education from 9 a.m. to 12 p.m.
Area 4-H members will provide entertainment at 11 a.m., with a Taste of the Mountains lunch following.
A study tour of Robinson Forest, which is limited to 20 people, will depart RCARS at 10 a.m. and return at 2 p.m. Participants will learn about timber harvesting research to protect water quality and the current status of hemlock trees.
Exhibits under the tent will include more than 30 displays and demonstrations. More than 15 crafters will demonstrate their crafts under the tent and will have items available for purchase.
Teachers should register their classes for the Youth Natural Resources Field Day and Pumpkin Days by Sept. 16 by calling 606-666-2438, ext. 291.
More information is available online at http://rcars.ca.uky.edu/mountain-ag-week or by calling a local office of the UK Cooperative Extension Service.
---
4 H Youth
Biosystems Ag Engineering
Community Development
Crops
Economics
Entomology
Environment
Events
Extension
Family Consumer Sciences
Forestry