Students develop UK dining app
Students develop UK dining app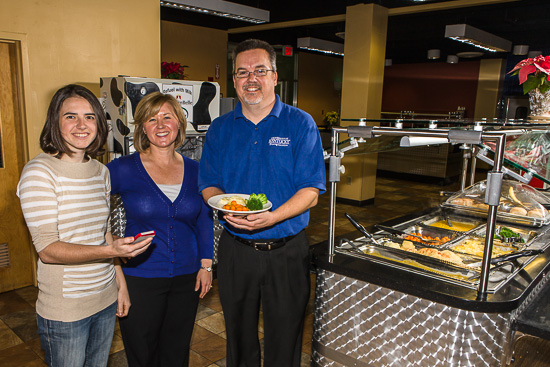 LEXINGTON, Ky.—
University of Kentucky students now have access to nutrition information from UK Dining Services, thanks to the work of students from UK's College of Agriculture and the Department of Computer Science in the College of Engineering.
Mallory Foster, a graduate student in the College of Agriculture's Department of Dietetics and Human Nutrition, and computer science students Keith Moyer of Vienna, Va., Rakesh Patel from India, Matt Seabold from Louisville and Randy Luecke of Marshall County have developed UK Food, a free nutrition app for menu items offered at UK's major on-campus eateries: Ovid's Cafe, Commons and Blazer.
Foster, from Teays Valley, W. Va., developed her idea during an undergraduate shadowing experience with Monica Fowler, a registered dietician who works with UK athletes. One of Foster's tasks involved gathering nutrition information from campus dining and making it available to the athletes. Foster and Fowler began to wonder if they could do that for every student on campus.
"For most students, college is the first time they are away from home, and they are going to develop habits that could potentially be with them for the rest of their lives," Foster said. "Hopefully, this app will help them make healthier food choices."
After Foster received her undergraduate degree in December 2011, she began pursuing her idea as a master's thesis project under the advisement of Kelly Webber, assistant professor in the UK School of Human Environmental Sciences.
"Mallory is a unique graduate student," Webber said. "To conceptualize and implement a project of this scope in a year's time is incredible."
"Everyone eats, but the way we eat is very important to our overall health," said Sandra Bastin, interim chair of the Department of Dietetics and Human Nutrition. "Mallory took valuable nutrition knowledge and, with the help of the computer science students, literally put the information at the fingertips of everyone on campus. It is also a perfect example of how collaborations and the use of specialty expertise can develop a worthwhile product."
For the project, Foster contacted Ray Schmidt, associate director of UK Dining Services about her idea. He gave her access to the hundreds of recipes offered on campus. Foster used nutritional analysis software to get the nutritional value of each recipe, according to the appropriate serving size.
"Mallory's creativity and determination brought different areas of the university together for one reason, healthier students, faculty and staff, and I was impressed by the end product the computer science team created," Schmidt said. "This app is going to increase internship possibilities in Dining Services and create student jobs as the app will have to be maintained, updated and eventually expanded to every campus dining unit."
Foster also contacted Jane Hayes, professor and associate chair of the UK Computer Science Department, who connected her with Moyer, Patel, Seabold and Luecke, students in her CS 499 Senior Design Project. Hayes said the goal of her class is to provide students with an experience that is as close as possible to software engineering projects they will undertake in their future careers, including interacting with clients who may or may not have computer expertise, designing interfaces for various platforms, keeping the interfaces consistent, working in numerous programming languages and environments and handling last minute changes and unexpected roadblocks.
"Keith, Randy, Matt and Rakesh experienced many challenges throughout the semester but soldiered onward," Hayes said. "I was particularly impressed by their determination to ensure that a working product was ready before the course ended. The payoff of their hard and excellent work can be seen in the quality of their finished product. We are very proud of this team, as well as our other CS 499 teams."
The computer science students wrote the code for the app. The UK Food app is available for iPhones on the App Store at https://myukdev.uky.edu/zAPPS/UkFoodOtaInstall/. The goal for the app was for it to be easy to use and provide useful nutrition information to those dining on campus. The four also developed a web application to permit UK Dining Services to send announcements to students and to edit the food information.
"Before this project, I worked on projects which had only one component," said Patel, who graduated in December. "This project has four components. It was interesting to see how different components work together."
The app provides the nutrition information for most of the menu items in campus dining halls including calories, fat, protein, carbohydrates, vitamins and minerals. In addition, each user can put their personal health information, such as height, weight, age, gender and physical activity level into the app. It will then calculate body mass index and daily caloric needs. As students eat foods at UK Dining Services, they can select the menu item on the app and a line at the bottom of the screen, representing their daily caloric intake, will begin to fill up.
For her master's thesis, Foster gathered baseline data in fall 2012 from 500 students who eat in campus dining facilities concerning their knowledge, attitudes and behaviors about their diet. She'll survey students again in the fall to see if the app has changed any of these.
---
Family Consumer Sciences
Food Science
Nutrition
Research