UK College of Agriculture, Food and Environment announces administrative transitions
UK College of Agriculture, Food and Environment announces administrative transitions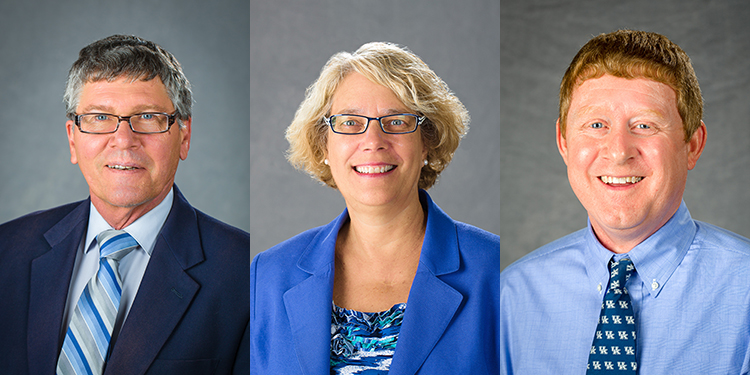 Published on Aug. 17, 2018
LEXINGTON, Ky.—
Administrative changes have taken place in the University of Kentucky College of Agriculture, Food and Environment, as three members have been appointed as associate deans. Retirements and other transitions led to the positions being vacated.
The appointments, announced recently by Dean Nancy Cox, include Robert Houtz as associate dean for research and director of the Kentucky Agricultural Experiment Station, Orlando Chambers, associate dean for administration, and Sandra Bastin, associate dean for faculty resources, planning and assessment.
"As always, the goal of our administration is to serve the college in the very best and most progressive way," Cox said. "The culture of the land-grant university is to strive to make each day better than the one before. Drs. Houtz, Chambers and Bastin bring a range of outstanding skills to these positions."
Houtz most recently served as chair of the college's Department of Horticulture. In his new position, his primary task is to promote success of the research enterprise in the college. He also supervises the Division of Regulatory Services, UK Veterinary Diagnostic Laboratory, Kentucky Tobacco Research and Development Center, the Research and Education Center in Princeton and the Robinson Center for Appalachian Resource Sustainability in Quicksand. He replaces Rick Bennett, who serves as a member of the plant pathology faculty but will continue to work to enhance faculty success through grant development and facilitating collaborative opportunities.
Chambers, an agricultural economist, most recently served as director of the Kentucky Tobacco Research and Development Center and assistant director for farm facilities. As associate dean for administration, he will oversee the college's many farm and campus facilities, aid in policy development and implementation related to facilities and provide operations and budget analysis. He replaces Steve Workman, who is retiring.
Bastin most recently served as chair of the college's Department of Dietetics and Human Nutrition. She is taking the helm from Lisa Collins, who has taken on a post-retirement position. Bastin will oversee facilitating the career success and academic advancement of all faculty as well as strategic planning and assessment for the college. She will serve as contact and advisor to department chairs on college/university policies, regulations and procedures and serve as a liaison with the university provost's office.
---
4 H Youth
Biosystems Ag Engineering
Community Development
Crops
Economics
Entomology
Environment
Equine
Extension
Family Consumer Sciences
Fine Arts