UK helps student make connections between nutrition, cancer
UK helps student make connections between nutrition, cancer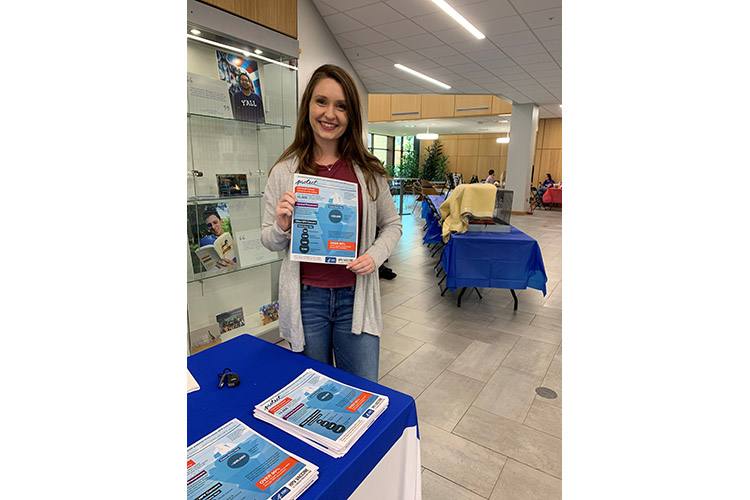 LEXINGTON, Ky.—
With a strong interest in healthy living, Susanna Goggans knew as a high school senior that she wanted to major in some type of health-related field. She chose to study human nutrition at the University of Kentucky. Inspired by her mother's battle with cancer, the UK senior is now pursuing connections between nutrition and oncology.
"My mom was diagnosed with ovarian cancer during my freshman year of college," said Goggans, a student in the Department of Dietetics and Human Nutrition in the UK College of Agriculture, Food and Environment. "I was very confused and had a lot of questions, because my mom was always really healthy and had done everything right. I didn't understand why she got cancer."
Her desire to learn more about cancer led her to the Appalachian Career Training in Oncology Program. Also known as the ACTION Program, it gives high school and undergraduate students from Eastern Kentucky the chance to learn more about and participate in meaningful, cancer research with the UK Markey Cancer Center. It is led by UK College of Medicine Assistant Professor Nathan Vanderford. Vanderford said it was evident soon after meeting Goggans and learning about the care she provided for her mother during her cancer battle, that she had a big heart and a deep passion for serving others. Those personality traits will serve her well as she works to become a doctor.
"Ultimately, Susanna will become a physician who has a strong understanding of Kentucky's medical needs and a deep passion for using her knowledge and skills to address those needs," Vanderford said. "Susanna is exactly the type of student we should be training here at the University of Kentucky – one that has the personal connections and desires to improve the health of the commonwealth."
Goggans, who is from Johnson County, joined the laboratory of Brett Spear, a molecular biologist in the UK College of Medicine. Prior to the COVID-19 pandemic, Goggans was in the lab studying enzymes that control the fatty acid levels in the liver and how these enzymes could cause liver tumor formation. Since the pandemic began, much of her lab work has moved online.
"Susanna's technical proficiency and enthusiasm for research were evident from the first moment she stepped into the lab," Spear said. "She was a delight to have as a member of our group, and the results she obtained will help us better understand a complex disease like liver cancer."
Goggans credits her human nutrition classes with helping her prepare for lab work.
"My research requires a lot of advanced molecular biology," she said. "Already having the biochemical background from my human nutrition classes helped me to better understand how the fatty acid pathway was working."
Tammy Stephenson, an associate professor in dietetics and human nutrition, is Goggans' advisor. She said many students in the department are interested in pursuing careers in medicine and participating in activities outside of the classroom like the ACTION Program can give them an advantage when they apply to medical schools.
"Susanna's experience with the ACTION Program has provided her with unique opportunities to apply her knowledge of nutrition to the field of oncology," Stephenson said. "The program nicely complements traditional classroom instruction."
In addition to research, Goggans participated in community outreach events through ACTION and shadowed oncologists, including her mother's, whose cancer is now in remission.
"Many times when I shadowed an oncologist, they would ask me my major, and they would talk about the importance of nutrition in oncology," Goggans said. "Cancer patients can have a lot of nutritional-related difficulties brought on by treatments, including low appetites, and some types of cancers, like mouth cancer, cause problems with patients' ability to eat and digest food."
She was also able to share her experience of having a parent diagnosed with cancer in an essay titled, "Malignancy in the Mountains." It was recently published in the book, "The Cancer Crisis in Appalachia: Kentucky students take ACTION."
After she graduates in May, Goggans hopes to use her nutrition background to pursue a career as an oncologist and serve the people of Eastern Kentucky. She has already found her nutritional knowledge helpful in taking the Medical College Admission Test. 
"The format of Tammy Stephenson's biochemistry class where we read peer-reviewed journal articles and then answered application-based metabolism and medical questions, prepared me for the structure of the MCAT," she said.
---
Extension
Family Consumer Sciences
Food Science
Livestock
Nutrition
Research