UK to host Universities Fighting World Hunger Summit
UK to host Universities Fighting World Hunger Summit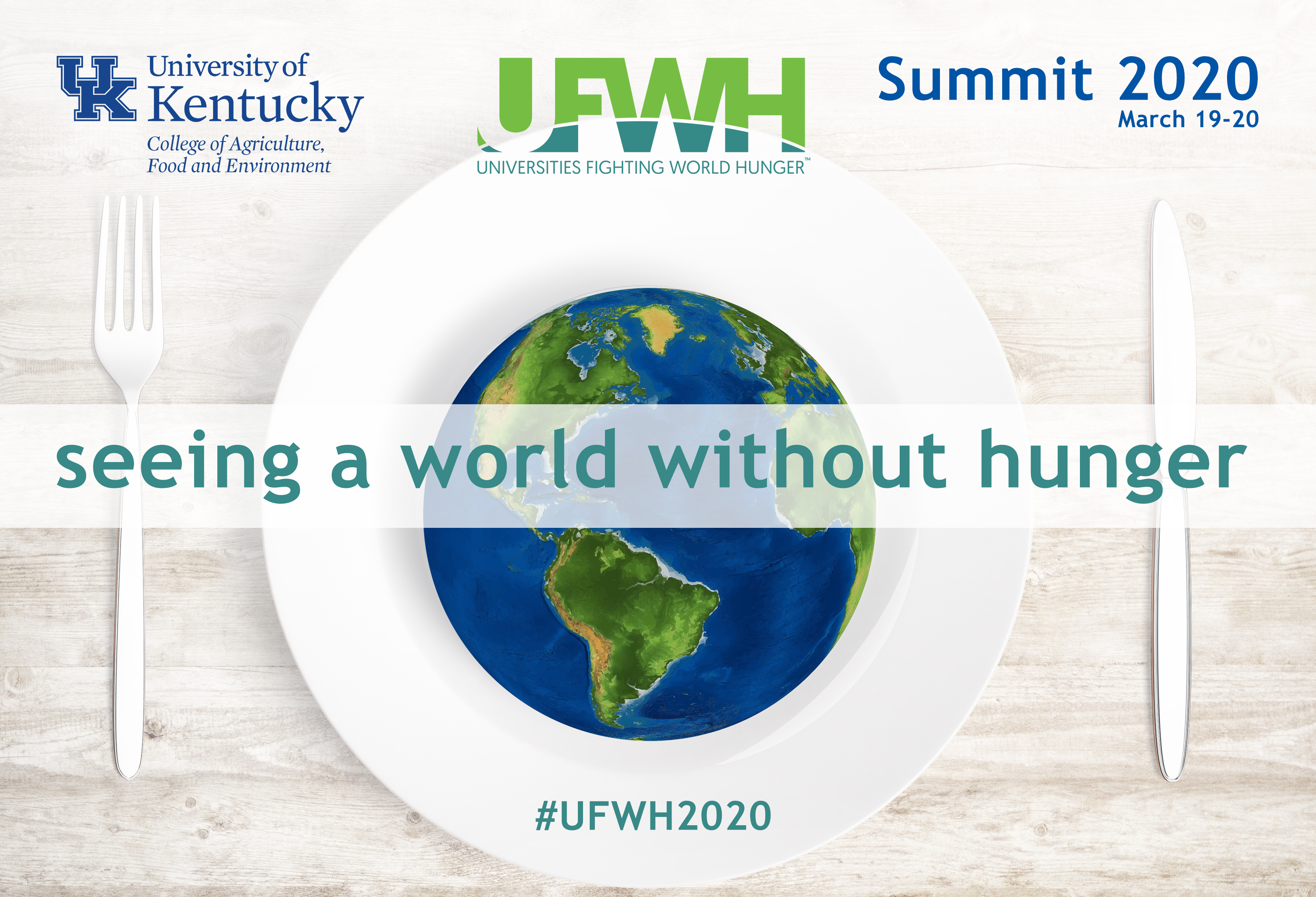 LEXINGTON, Ky.—
The University of Kentucky will host the Universities Fighting World Hunger Summit March 19-20 in the UK Student Center. The event brings together college students, faculty, administrators and hunger activists from around the world to discuss ways they can collectively reduce worldwide hunger.
The event includes networking opportunities, breakout sessions and several keynote speakers. In conjunction with the summit, UK President Eli Capilouto will host other university presidents and administrators who are partners in the organization Presidents United to Solve Hunger.
Nikki Putnam Badding, director of human nutrition initiatives at Alltech Inc., will speak on the morning of March 19. Badding is a registered dietitian who helps farmers and producers across the globe apply the lens of human nutrition to agricultural practices for the improved nutrition of plants, animals and consumers. She actively advances Alltech's Planet of Plenty, which focuses on producing safe, nutritious food while caring for animals and sustaining the environment for future generations.
Esther Ngumbi, an assistant professor at the University of Illinois who is well known for establishing initiatives to decrease hunger in her native country of Kenya, will speak during lunch.
The evening of March 19 will feature a Kentucky Proud Dinner and Awards. Keynote speakers for the event include Ouita Michel, Kentucky chef and restaurateur, Ryan Quarles, Kentucky Commissioner of Agriculture, and Tamara Sandberg, executive director of Feeding Kentucky. The three will discuss ways Kentucky is developing sustainable solutions to end hunger.
Maria Rose Belding, cofounder and executive director of MEANS, is the keynote speaker for the closing session on March 20. MEANS is an online platform that helps connect food pantries with retailers who have surplus food. This simultaneously helps reduce food waste while providing those in need with a sustainable food source. Her work has received recognition from L'Oreal Paris and the Obama administration. Glamour Magazine named her their 2018 College Woman of the Year, and CNN named her one of their 2018 Heroes of the Year.
In addition to the keynote speakers, Sonja Feist-Price, UK vice president for institutional diversity, Sue Roberts, UK associate provost for internationalization, and Nancy Cox, dean of the College of Agriculture, Food and Environment, will speak during the summit.
Universities Fighting World Hunger is an initiative that started at Auburn University 15 years ago. This is the first time that UK has hosted the event.
"This group of scholars and students is always inspirational," said Janet Mullins, interim chair of the UK Department of Dietetics and Human Nutrition. "Every university represented will find something they can do to help end hunger, educate students and discover new ways to feed everyone on the planet."
UK sent a contingent to the inaugural summit and has since taken many measures to address hunger on campus and around Lexington through its local chapter of Universities Fighting World Hunger. This includes Campus Kitchen at the University of Kentucky, which started in 2014. UK students recover unused, quality meals and produce from UK Dining Services and local businesses to prepare and serve meals to those in need across Lexington.
"These meals serve families who often cannot afford healthy food," said Kaela Jackson, UK dietetics major and president of Campus Kitchen at the University of Kentucky. "We also deliver fresh bagels to residence halls once a week and provide food for Farm to Fork."
Student members of the Campus Kitchen at the University of Kentucky have provided free, locally sourced, nutritious lunches for UK students each Wednesday through Farm to Fork since 2018. They serve nearly 125 meals each week and provide educational information and community for their peers.
In fall 2018, UK's chapter of Universities Fighting World Hunger collaborated with UK's Dining Services, Student Government Association and Community of Concern to distribute meal swipes, which provide free meals at UK Dining Services facilities to students.
"Having access to nutritious foods affects student success and their overall well-being," said Claire Crosby, a senior human nutrition major and president of UK's chapter of Universities Fighting World Hunger. "This drives my passion to fight hunger and implement new initiatives to make UK a hunger-free campus."
Registration and more information about the event is available online at www.uky.edu\summit2020. Early bird registration, which ends Jan. 31, is $20 for students and $100 for non-students. After that date, registration increases to $25 for students and $125 for non-students. Individuals who wish to present their hunger-related research during the event may submit abstracts for consideration until Jan. 15.
---
Events
Family Consumer Sciences
Food Science
Nutrition
Research
Sustainability