UK Launches Online Graduate Certificate in Applied Nutrition and Culinary Medicine
UK Launches Online Graduate Certificate in Applied Nutrition and Culinary Medicine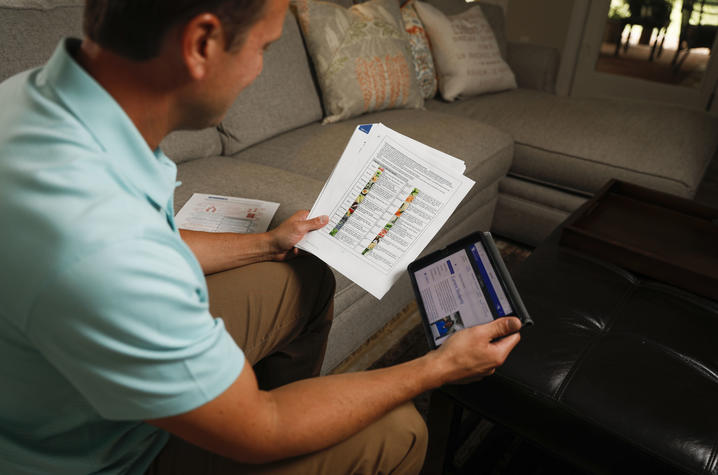 LEXINGTON, Ky.—
This article was updated Feb. 28, 2020.
A collaboration among three University of Kentucky colleges has resulted in an innovative new online program. Students and health professionals looking to further their education in food as it relates to health can now earn a graduate certificate in applied nutrition and culinary medicine.
"Food as medicine" has become a growing health movement — driving consumers to treat what they eat as a means to prevent, manage and possibly even reverse certain conditions. In addition to seeking more whole foods, people are cutting out those they think could have a detrimental effect on their long-term health. 
"Both the prevention and treatment of many health conditions are tied to nutrition," Sara Police, certificate director and assistant professor of pharmacology and nutritional sciences, said. "My colleagues and I are thrilled that UK has recently approved and launched this pioneering program for current and aspiring health care professionals."
The applied nutrition and culinary medicine program — offered by the College of Medicine, the College of Health Sciences and the College of Agriculture, Food and Environment — aims to provide a better understanding and appreciation for the importance of nutrition education for health professionals in multiple disciplines, and to recognize the importance of engaging registered dietitians to enhance health outcomes in patients.
"Many health professionals are seeing patients that need sound nutritional advice, but nutrition education for health professionals is inadequate," Geza Bruckner, professor in the Department of Athletic Training and Clinical Nutrition in the College of Health Sciences, said. "This graduate certificate is envisioned to help fill that void."
Throughout the 12-credit hour program, students will explore nutritional approaches to various disease states. Additionally, elective courses will allow students to tailor their graduate certificate to the needs of their practice or discipline, while also conducting research concerning drug and nutrient interactions, approaches to community program development and the physiologic basis for or against various dietary supplements.
Ultimately, the certificate program provides health professionals with a variety of courses to enhance their knowledge on how nutrition can advance their care and treatment of patients.
"If our graduate certificate coursework can equip health professionals to incorporate evidence-based nutrition and culinary advice into their scope of practice, then mission accomplished," said Janet Mullins, professor and chair of the Department of Dietetics and Human Nutrition in the College of Agriculture, Food and Environment.
"We're funneling expertise from multiple colleges to ensure students who earn this certificate receive a well-rounded education on nutritional practices that they can use in their current or future career paths," Police added. "And it's online, making the courses more convenient and more accessible to students from all over the state and beyond." 
The graduate certificate in applied nutrition and culinary medicine is one of more than 30 degrees and certificates UK now offers online. For more information on those programs, you can visit the UK Online website.
---
Family Consumer Sciences
Food Science
Nutrition
Research