The University of Kentucky Lemon Tree restaurant blends dining with learning in a culinary classroom
The University of Kentucky Lemon Tree restaurant blends dining with learning in a culinary classroom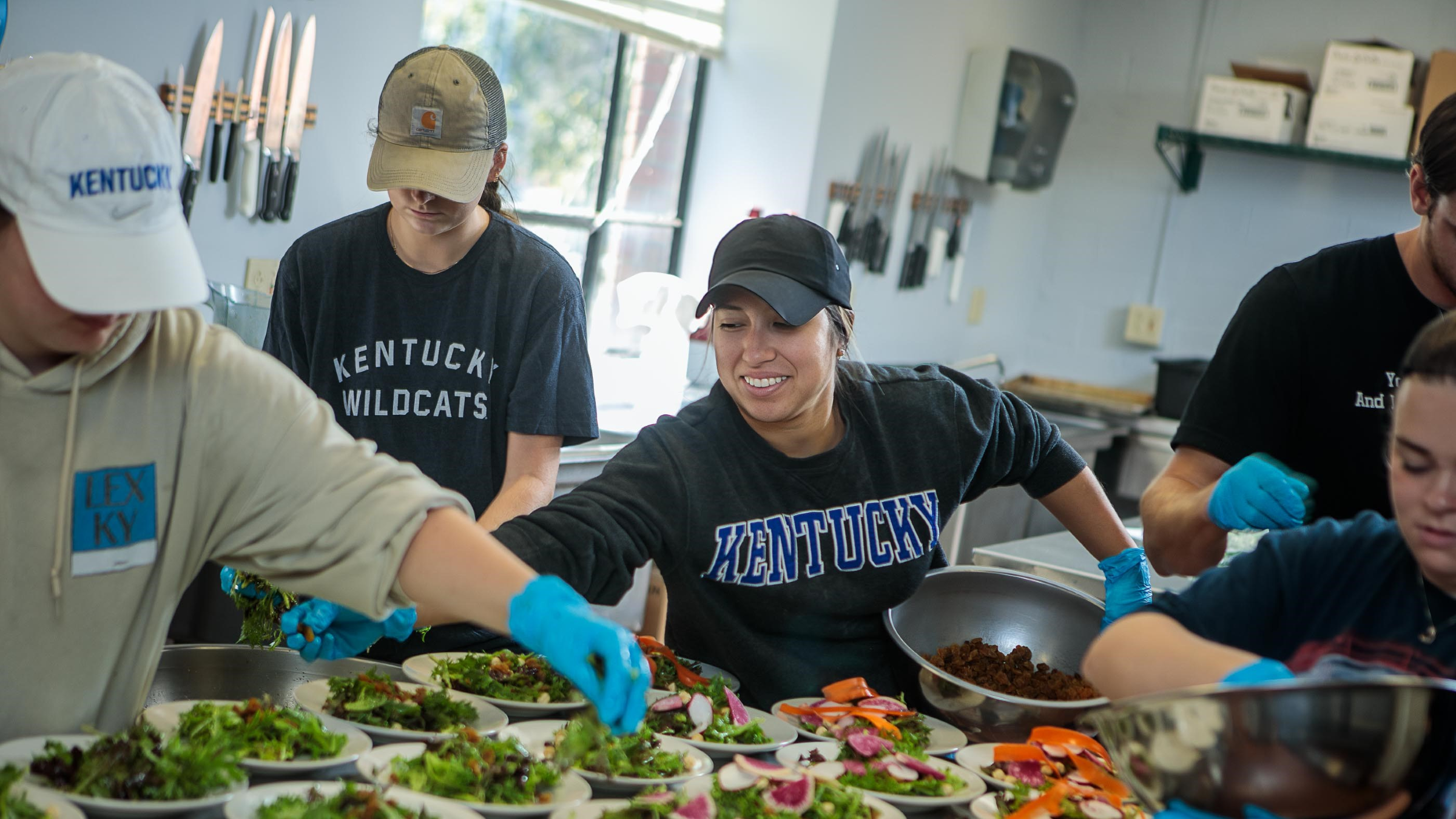 LEXINGTON, Ky.—
The Lemon Tree restaurant, a part of the University of Kentucky Martin-Gatton College of Agriculture, Food and Environment, is a unique learning space for students. Unlike traditional classrooms, this diner offers students an unparalleled hands-on opportunity.
The Lemon Tree is a student-led culinary class, where students orchestrate every detail – from delivery service to washing the dishes. Meeting and exceeding guest expectations is the mantra and the learning objective. 
"I teach students confidence in themselves as much as culinary skills and management," said Bob Perry, UK's chef-in-residence. "Students can dabble in various restaurant roles throughout the semester, offering them a holistic view of the hospitality industry. This unique exposure grants many their first insight into the intricate mechanics of the restaurant business." 
With more than 40 years of experience in the culinary arts, Perry ensures the kitchen remains a place of learning. Students often commend his patience, especially considering many are navigating the kitchen on such a scale for the first time. His vast, diverse experience is seen as an invaluable resource, serving as a well of knowledge and expertise. 
Emily DeWitt, a UK Department of Dietetics and Human Nutrition (DHN) lecturer, previously participated in the Lemon Tree course. Now a program leader, she challenges students, emphasizing teamwork and problem-solving.  
"I always want them to figure things out among themselves. Only when they're genuinely stuck, should they turn to me. It's about preparing them for real-world scenarios, fostering independence while ensuring a safety net of guidance," Dewitt said. 
Several students said what they gained from their Lemon Tree experience was unparalleled. 
Sarah Randle is a hospitality management and tourism senior. Having been a student herself, Randle's experience inspired her to return as an undergraduate instructional assistant. As a student Sarah had limited culinary knowledge. However, under Perry's guidance, she absorbed skills ranging from understanding the harmony of ingredients to recognizing the significance of every item in the kitchen. 
"Every plate represents hours of dedication, and it becomes a testament to the skill and passion poured into it," Randle said. "Our customers are drawn in by the affordable fine dining and the emphasis on local ingredients. 
She said the class's commitment to local produce further enhanced its appeal. 
"With Chef Bob advocating for predominantly Kentucky-sourced ingredients, the dishes reflect a blend of quality, freshness and local heritage," Randle said. "This emphasis resonates deeply with both the students and the diners." 
At a glance, Samantha Reyes may seem like just another student bustling around in a kitchen. Dive a little deeper, and you'll find a passionate DHN student on a mission to blend culinary arts with nutrition education. 
Her work has seen her stripping kale, rolling bread dough and chopping an array of vegetables, Reyes says this hands-on experience not only equips her with the necessary culinary skills but also accentuates teamwork.  
"Half of these people I didn't even know before," Reyes said. "It's just amazing how everyone comes together and works together to make it special to the patrons." 
The connection between food and health is at the core of Reyes' ambition. Starting as a pre-med student, her perspective shifted towards preventative healthcare through nutrition.  
"Food is supposed to be fun," she asserts. "Both the students and patrons can try food they haven't tried before. The fact that we use local, healthier ingredients just makes it all better an experience." 
Reyes' dream is to work in nutrition education. She envisions herself guiding kids and families towards healthier lifestyles, advocating for the consumption of local produce for its sustainability and economic benefits. 
As for Lemon Tree's patrons, Reyes believes everyone walks away with a unique experience.  
"It's not every day that one gets to enjoy a meal meticulously prepared by students, some of whom might be wielding a kitchen knife for the first time," Reyes said. "But the end product is a testament to every student's hard work, passion and collective effort." 
– 30 –                                                                            
The Martin-Gatton College of Agriculture, Food and Environment is an Equal Opportunity Organization with respect to education and employment and authorization to provide research, education information and other services only to individuals and institutions that function without regard to economic or social status and will not discriminate on the basis of race, color, ethnic origin, national origin, creed, religion, political belief, sex, sexual orientation, gender identity, gender expression, pregnancy, marital status, genetic information, age, veteran status, physical or mental disability or reprisal or retaliation for prior civil rights activity.
---
Food Science
Leadership
Nutrition
Students