University of Kentucky students serve healthy, balanced meals to community through Meals on Wings
University of Kentucky students serve healthy, balanced meals to community through Meals on Wings

LEXINGTON, Ky.—
At the University of Kentucky Campus Kitchen, a remarkable initiative – Meals on Wings – is taking flight, bringing nourishment and community spirit to those who need it most. Meals on Wings is not just about food, it's about bridging gaps and fostering a sense of unity within the community.   
Part of the UK Martin-Gatton College of Agriculture, Food and Environment Department of Dietetics and Human Nutrition (DHN), Meals on Wings embodies the college's dedication to reducing food waste and addressing food and nutrition disparities. 
MEALS ON WINGS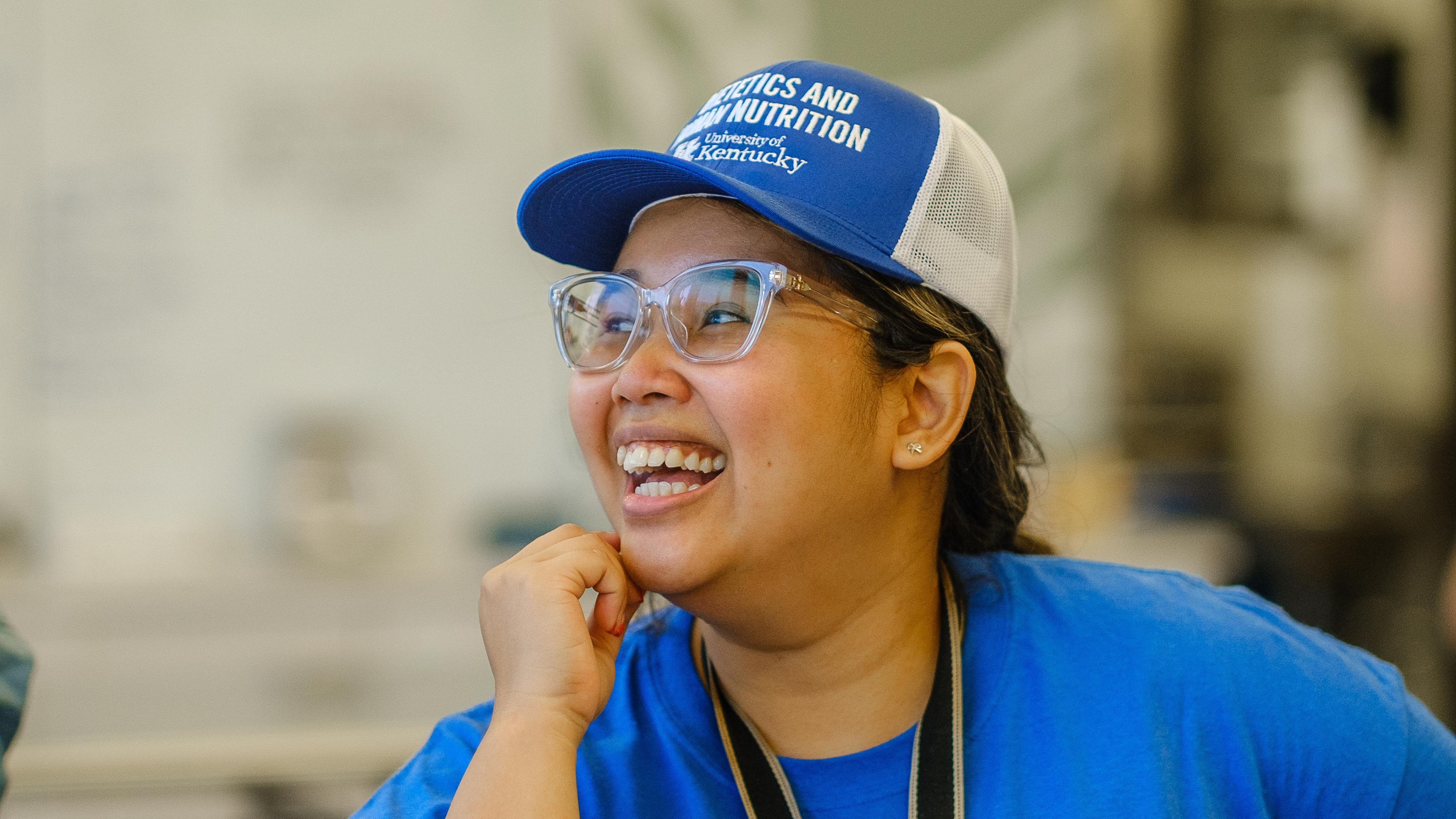 Launched by the University of North Florida (UNF) Center for Nutrition and Food Security, the Meals on Wings program was designed to recover food normally discarded from area hospitals and then repackaged into healthy, balanced meals for delivery to older adults experiencing challenges properly nourishing themselves.  
This summer Meals on Wings was introduced at UK, thanks to a two-year seed grant funding support from UNF in collaboration with Humana Inc. 
Kendra OoNorasak, DHN's director of community outreach and the grant's principal investigator, oversees the student volunteers and leaders from various majors that brought this program to fruition. OoNorasak believes that the students are filling a much-needed gap, especially for seniors in Kentucky.  
"In Kentucky, the food insecurity rate for older adults is ranked one of the highest in the nation," said OoNorasak. "This means that the policies, systems and structures that we have in place cannot reach those populations. Meals on Wings helps fill this gap, while teaching our students the importance of community engagement."  
Meals on Wings is a three-part process: recovering, transporting and storing the food, planning and preparing age-friendly, nutritionally balanced meals safely in the Campus Kitchen and then hand-delivering meals to older adults.  
FOOD RECOVERY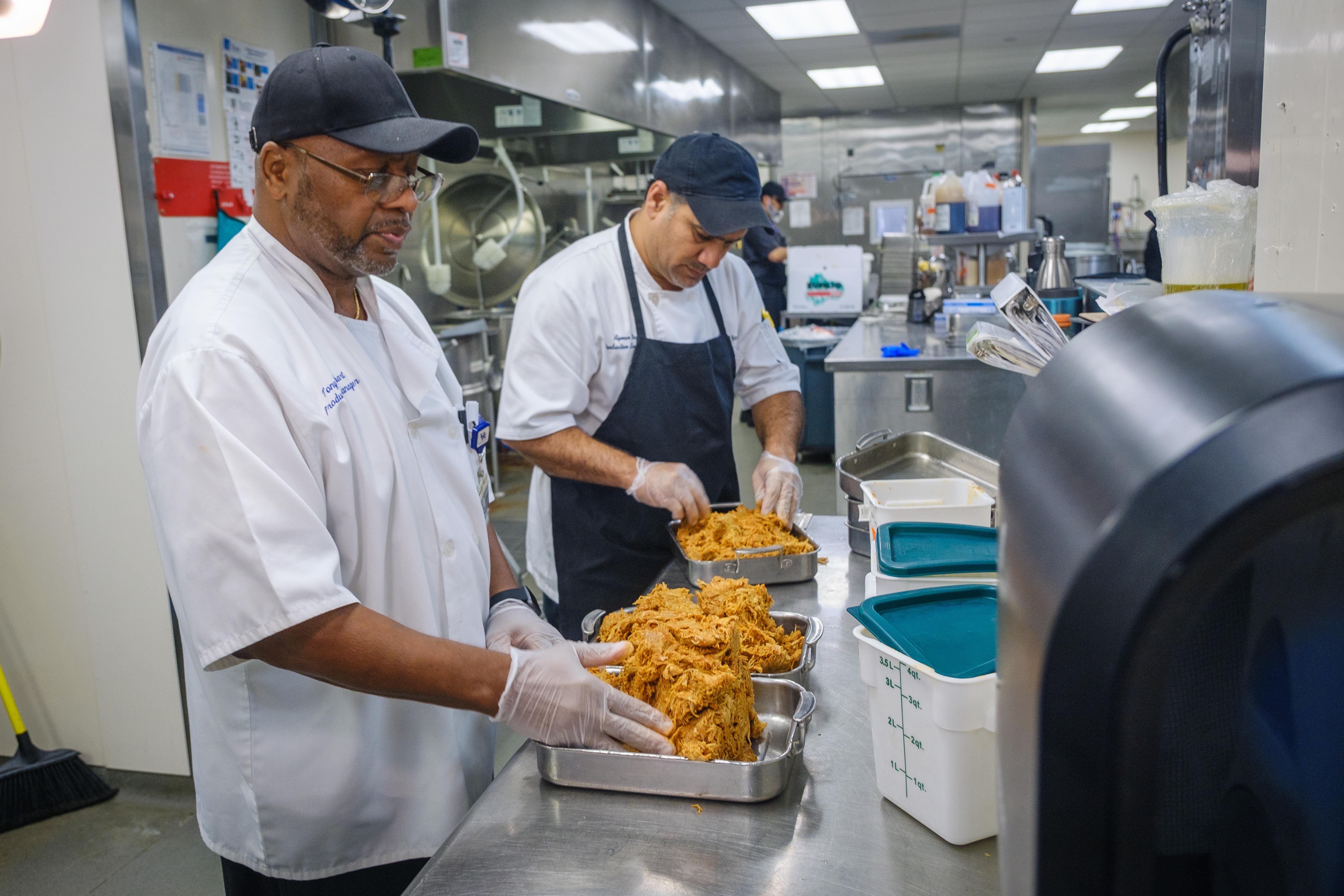 UK's Chandler Hospital Kitchen was the first hospital food recovery site for Meals on Wings.   
"It was a big deal because we would always have quite a bit of food leftover and my team was always worried about throwing it away," said Tony Everhart, chef of the Chandler Hospital Kitchen. "We found out that some of our cooks and some of our employees get some of those meals. It means a lot to us that we are doing our part in giving back to the community."  
Every week, Everhart's team identifies and safely stores the food in the kitchen's refrigerators for pickup. UK students recover the food twice a week, safely store it in reusable containers and then bring it back to the Campus Kitchen.  
UK nursing senior Sophia Bonilla started as a Meals on Wings volunteer, became a shift captain and is now a research assistant at Campus Kitchen.  
"I've always been passionate about giving back and volunteering," said Bonilla. "Being around other students who want to make a difference is empowering. Seeing the impact that we are making on the community makes everything we do just so worth it."  
When the students arrive to recover the food, it creates a buzz.  
When we interact with the Meals on Wings on students, you can tell the passion that they have for what they're doing," said Mike Montes, food and nutrition director of Chandler Hospital and Kentucky Children's Hospital "I think it's going to translate into their careers later on." 
After the recovery, students transport the food back to the Campus Kitchen where it's checked in, inventoried, weighed and safely stored for future meals.  
MEAL PREPARATION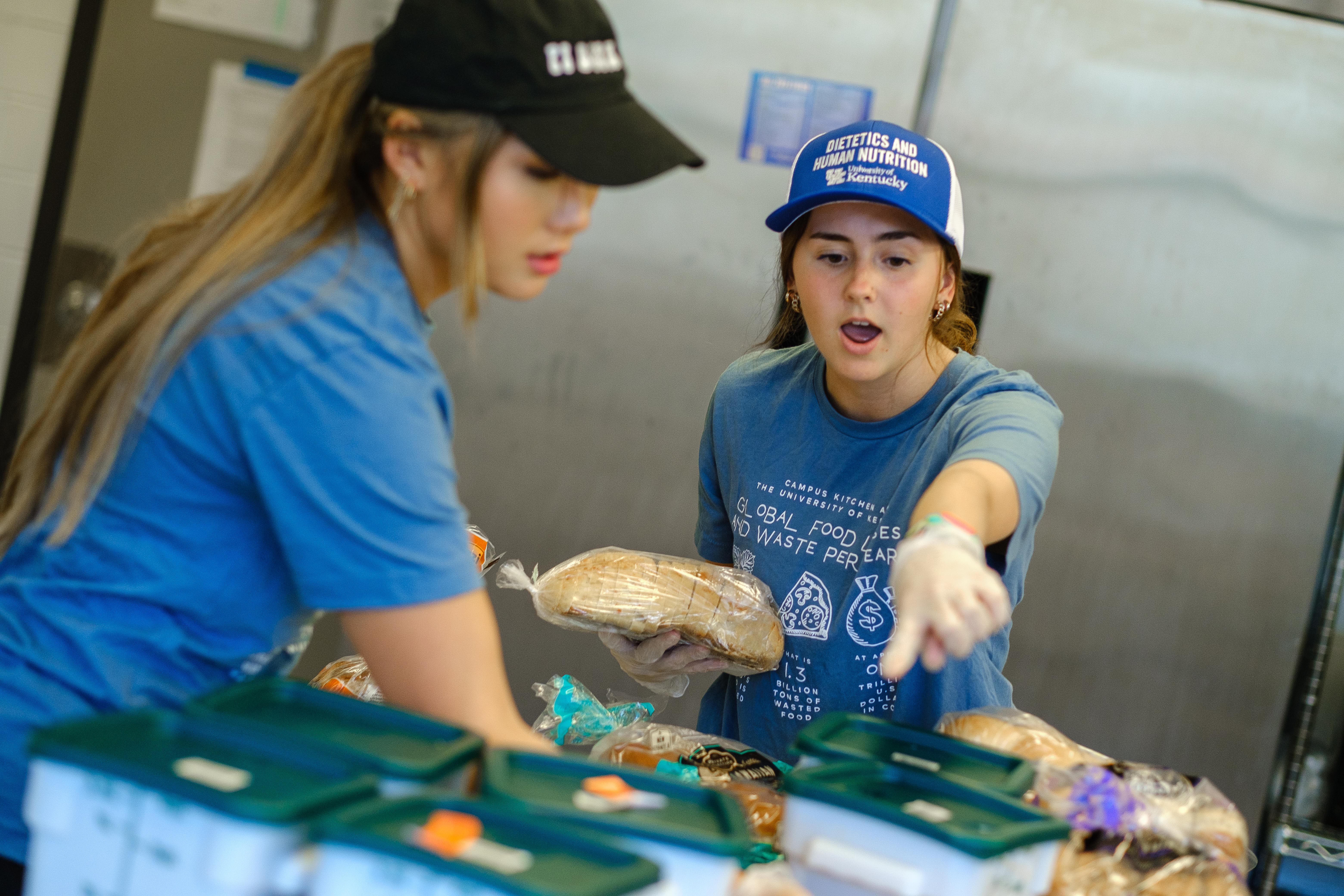 Inside the fully functional Campus Kitchen (located inside of Funkhouser building on campus), over 75 students volunteer and engage in hands-on learning experiences each week to prepare healthy, yummy meals. They call this the cooking shift.  
UK Human Nutrition junior Lauren Hill was looking for volunteer opportunities on campus. She found her way on the cooking shift team.   
"Every time I come into the Campus Kitchen, I realize it's not just me doing this," Hill said. "It's a team effort and we are all putting in time to further this mission. Everyone gets excited because we know this is something great that we're doing."
 Beyond the food, this experience gives students tangible skills to grow personally and professionally while making lasting friendships.  
"This experience has helped shape my leadership and problem-solving skills," said Ella Bally, UK dietetics junior, cooking shift captain, social media and design chair. "I'll definitely remember all the friendships I made through this experience."  
DELIVERY AND SERVING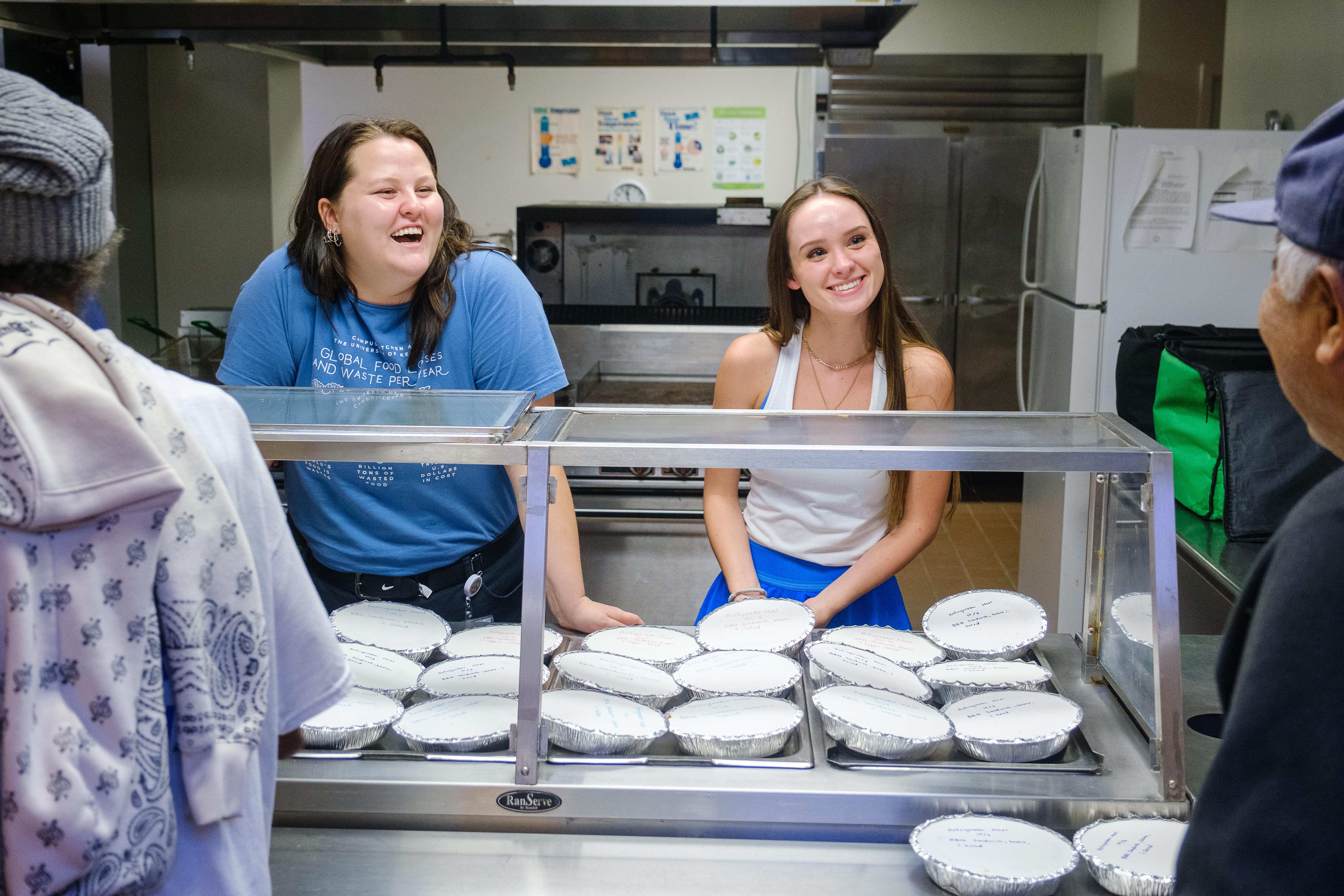 After the students prepare and package the food in the Campus Kitchen, the meals are delivered to older community members at the Ballard-Griffith Towers Plaza and Emerson Center in Lexington.   
"It was very eye-opening for me because I didn't realize how much it impacts their day-to-day life, how much they truly are grateful and value these meals," Bally said.  
Courtney Luecking, assistant extension professor at Martin-Gatton CAFE, says when people get a healthy, nutritious meal (knowing that a student played an instrumental role from cultivation to delivery) that it adds so much value to the community and students.  
"I was a delivery shift captain for a year and that was when I really fell in love with the Campus Kitchen," said Payton Abney, UK neuroscience and biology senior and student president of Campus Kitchen. "I'm really doing something that's bigger than just being a student. You form a relationship that you can't really find anywhere else."  
RESEARCH AND CAREER PREPARATION  
Programs like Meals on Wings can also offer students an inside lane to more undergraduate research opportunities. Additionally, it can give them tangible skills to prepare them for their future careers.  
"Meals on Wings is a wonderful way for our students not only to get more involved in the department and Campus Kitchen, but it's a great opportunity to see the ins and outs of research," said Makenzie Barr-Porter, DHN assistant professor and director of the certificate in food systems and hunger studies. "While working with faculty, students can collect data, publish abstracts and papers with us and work in-depth with faculty."  
For Barr-Porter, students getting research experience is vital to further understanding their future career possibilities. It's about leaning into the College's land-grant mission: teaching, research and extension.  
"We really do hone in on our land grant mission. Giving back to our community and seeing our students get woven into outreach through our department is a lovely thing to see."  
DHN faculty and staff encourage students to become involved in undergraduate research and appreciate the support of undergraduate students in their research projects.  
FOOD BRINGS PEOPLE TOGETHER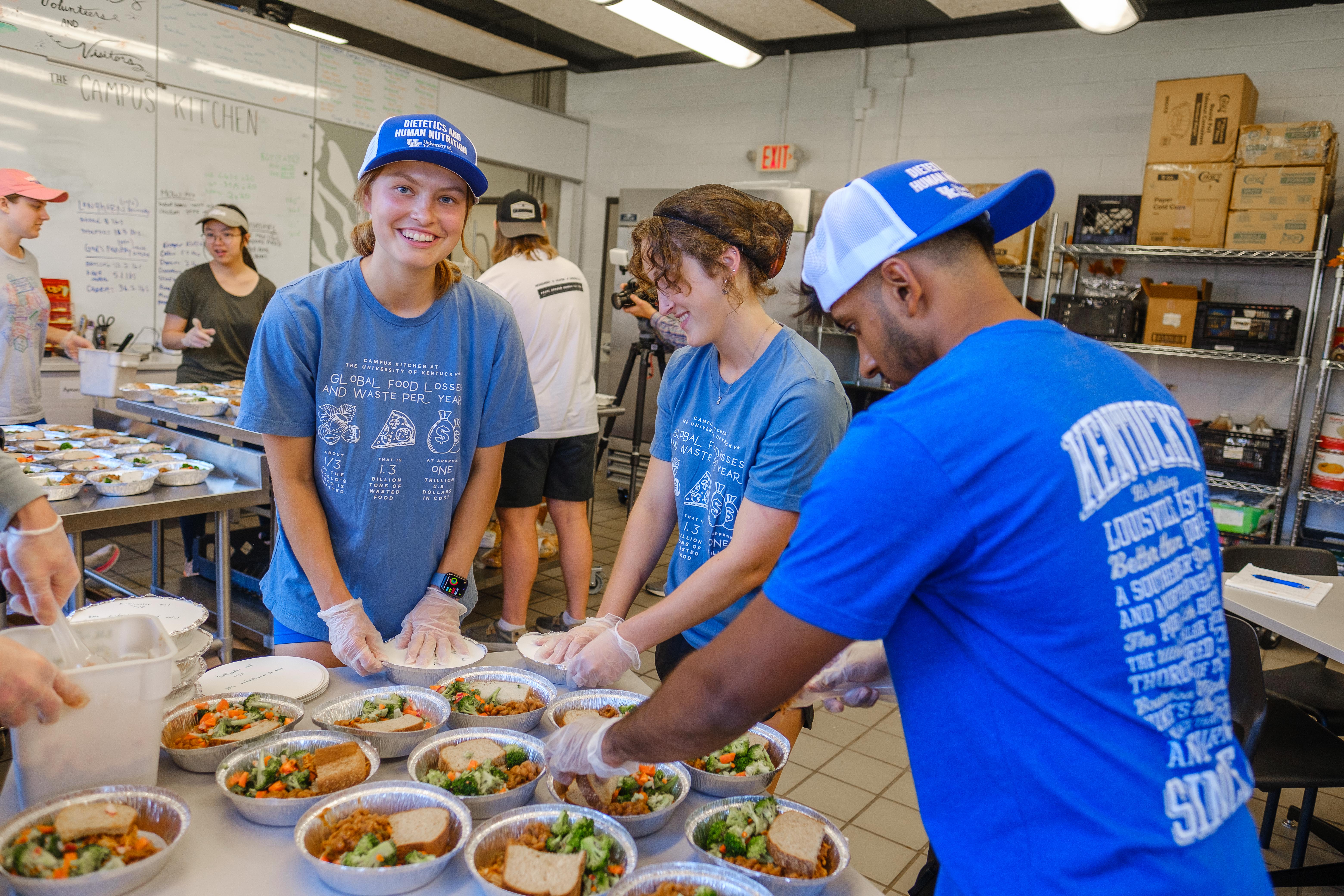 In 2014, when OoNorasak attended UK as an undergraduate and international student, Campus Kitchen helped her connect to people and made her feel safe. For OoNorasak, food brings people together, regardless of background.
"Eating and food are just integral to all of us, regardless of who we are, where we come from, what we believe in, what we study or where we are working," OoNorasak said. "Everybody deserves good, healthy food that is culturally appropriate and feels like home."  
Reflecting on what Campus Kitchen has meant to her, OoNorasak said, "Campus Kitchen is what ignited my passion for community nutrition."  
Since 2014, Campus Kitchen has recovered over 95,000 pounds of food and served over 35,000 meals. More than 9,000 UK students have volunteered, resulting in 17,000 volunteer hours across 100+ majors representing 11 colleges.  
"It makes me incredibly proud to see the students, hear from them, learn from their stories and the impact of being involved in the Campus Kitchen," said Tammy Stephenson, DHN department chair and professor. "We are all moving towards a common good, building camaraderie and friendship."  
VOLUNTEERING
Student volunteers drive Campus Kitchen's mission. Every year, hundreds of students, from all majors and backgrounds, come together to serve. For directions on how to volunteer, start here.
DONATING 
Giving helps Campus Kitchen continue to offer more meals, reduce food waste, lower food insecurity and impact the community.  Donate at: https://uky.networkforgood.com/causes/16861-campus-kitchen-gift-fund.
– 30 –       
                                                                    
The Martin-Gatton College of Agriculture, Food and Environment is an Equal Opportunity Organization with respect to education and employment and authorization to provide research, education information and other services only to individuals and institutions that function without regard to economic or social status and will not discriminate on the basis of race, color, ethnic origin, national origin, creed, religion, political belief, sex, sexual orientation, gender identity, gender expression, pregnancy, marital status, genetic information, age, veteran status, physical or mental disability or reprisal or retaliation for prior civil rights activity.
---
Food Science
Leadership
Nutrition
Students
Sustainability