CAFE faculty honored for teaching, service
CAFE faculty honored for teaching, service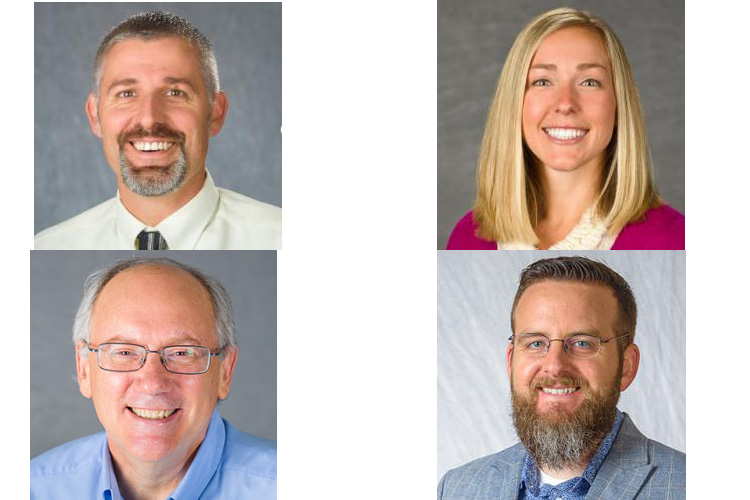 Published on Nov. 23, 2020
LEXINGTON, Ky.—
Four faculty members of the University of Kentucky College of Agriculture, Food and Environment were honored for their contributions to the college's research, teaching and extension efforts. The annual awards were presented during the college's fall faculty meeting.
The recipients of this year's Master Teacher awards are Liz Combs, Department of Dietetics and Human Nutrition, and Lou Hirsch, Department of Plant Pathology. The annual award recognizes outstanding teaching including effectiveness in the classroom, dedication to students through activities in and out of the classroom, and evidence of activity to improve teaching.
Combs has served for nine years as the director of the coordinated program in dietetics while also teaching several classes each semester and advising undergraduate students. She is a creative, energetic and passionate educator who consistently receives positive feedback from her students.
This year, the pandemic hit during students' dietetic internships, and Combs, along with others, quickly strategized and navigated a path for the dietetic interns to complete their internships in a timely manner to be eligible to take the registered dietitian exam. Their innovative approach to completing the internship included collaborating with Family and Consumer Sciences Extension on a project that has since been accepted as a peer-reviewed professional journal publication.
Hirsch has provided instruction to undergraduates in agricultural and medical biotechnology and plant pathology for five years and is widely recognized as an exceptional instructor. He serves as the director of undergraduate studies for the AMBT program as well as for individualized programs within the college.
This year, Hirsch has been an exceptional leader in adapting teaching techniques to the unforeseen challenges of the pandemic. He recently co-authored a publication in Experiential 2 Learning & Teaching in Higher Education titled, "What to do When the Lab Closes? Managing an Interdisciplinary, Undergraduate Research Capstone Course During a Global Pandemic."
Ken Haynes, professor in the Department of Entomology, received the George E. Mitchell Jr. Award for Outstanding Service to Graduate Students. The award is given each year in honor of Mitchell, who was a well-regarded graduate student advisor and mentor. Haynes, a faculty member for 35 years, has served on over 86 graduate committees. He is currently the director of graduate studies for entomology, and in the past year, he took on the substantial task of redeveloping the department's program student learning outcomes plans.
Also, since the onset of the COVID-19 pandemic, Haynes' wisdom, empathy and accessibility have helped bring a sense of connection and normalcy to graduate students, helping them to remain productive while also ensuring their mental well-being and emotional health.
Kenny Burdine, Department of Agricultural Economics, received the Mack Whiteker Award given by the Kentucky Association of State Extension Professionals in honor of CAFE alumnus McElwyn "Mack" Whiteker.
KASEP recognized Burdine earlier this year, and he was recognized again along with the other recipients. He was honored for his excellent work in the field of agriculture economics extension, particularly livestock marketing strategies, market outlook and price risk management.
---
Crops
Economics
Entomology
Extension
Family Consumer Sciences
Food Science
Nutrition
Research