CAFE Opens New Student Wellness Room
CAFE Opens New Student Wellness Room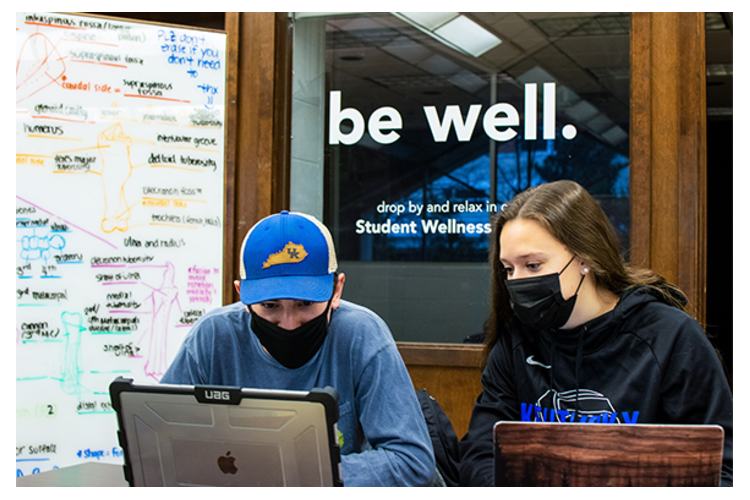 LEXINGTON, Ky.—
This Valentine's Day, the College of Agriculture, Food and Environment is reminding students to show some affection to their most important loved one: themselves. 
Monday, Feb. 14 marks the official opening of the college's new student wellness room in the Agricultural Science Center. A former computer lab, the updated area is now a relaxing space with soft furniture, ambient lighting and environmental artwork – all for students to enjoy at their leisure. 
While visiting, students can find mindfulness activities, post an encouraging message for their peers, pick up self-care literature and even mail a message of gratitude with a stamped card. 
"It's great to have this kind of space on the south side of campus," said Sierra Tichnell, animal sciences senior and CAFE Student Council President. "Having to travel across campus can be a deterrent, so it's great to have more access to mental health services close by."
In addition to relaxing hangouts, the room will host various mental health and wellness events, including the UK Counseling Center's "Let's Talk" program on Thursdays from 3 to 5 p.m. 
"We all have struggles, and anything that makes it easier for us to say 'Hey, I need help' is huge," said Mason DiSalvo, agricultural economics junior and CAFE Student Council President-Elect. 
Both in and outside the space, organizers hope this initiative sparks more mental health conversations and wellness practices throughout the college. 
"Issues of mental health access and stigma are particularly prevalent across the agriculture industry and rural America at large," said Carmen Agouridis, associate dean for instruction. "And while we want to support and empower our students throughout their studies, I also hope they can extend these lessons into the communities they will someday serve." 
On Monday, from 9 a.m. to 4 p.m., the campus community is invited to stop by the CAFE student wellness room in N24 Agricultural Science Center, commonly known as Ag North. There, visitors can also offer anonymous feedback on the space and its future events.
"Just having a safe space to open up is such a big step in the right direction," Tichnell said. "And, considering everything we've been through over the past few semesters, it couldn't come at a better time." 
To browse upcoming events in the CAFE student wellness room, visit http://students.ca.uky.edu/event-type/wellness-events.
---
Biosystems Ag Engineering
Crops
Economics
Entomology
Family Consumer Sciences
Food Science
Forestry
Horticulture
Livestock
Nutrition