First-generation students share their UK CAFE experience
First-generation students share their UK CAFE experience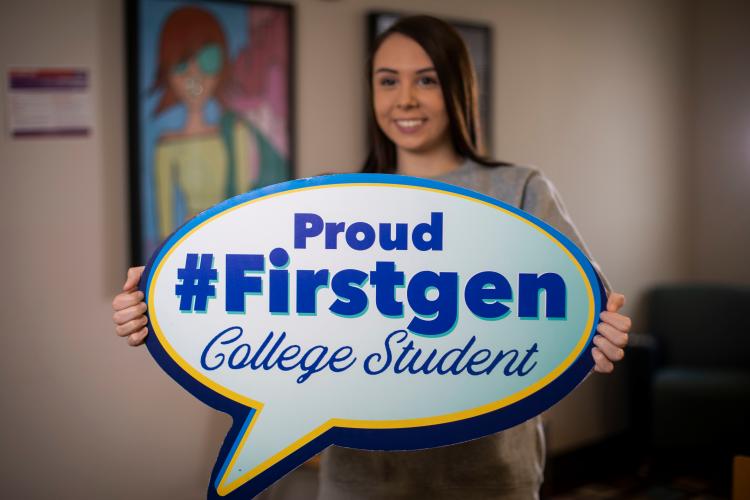 Lexington, Ky—
The UK Interactive Fact Book reports nearly a quarter of University of Kentucky College of Agriculture, Food and Environment students are first generation, meaning neither parent or guardian earned a bachelor's degree. Being a first-generation student presents unique academic, social, personal and financial changes that accompany the college transition without the luxury of using their parents' young-adult experiences as a baseline. However, these challenges do not equate to failure for first-generation students.
"I am incredibly proud of the large number of first-generation students in our college, for they speak directly to the heart of the land grant mission," said Carmen Agouridis, UK CAFE senior associate dean. "The College of Agriculture, Food and Environment prides itself in helping build and strengthen communities, and our first-generation students are the true difference makers in many respects. Our first-generation graduates are often the catalysts for positive growth and change in their communities and families."
In celebration of National First-Generation Student Week Nov. 7-11, four UK CAFE first-generation students shared their trailblazing journey to becoming the first in their family to earn a four-year degree.
Maya Horvath - Horticulture senior
Luckily Maya Horvath's older brother had already served as an example of how to navigate the college application process, but Horvath was the first in the family to make the big college move—choosing to attend UK CAFE, a college nearly 2,000 miles away from their hometown of Azusa, California. Horvath suffered an ankle injury shortly before coming to UK, in conjunction with the typical challenges of the college transition, which led to some freshman-year anxiety, but Horvath quickly found a place on campus in the International Village Living Learning Program.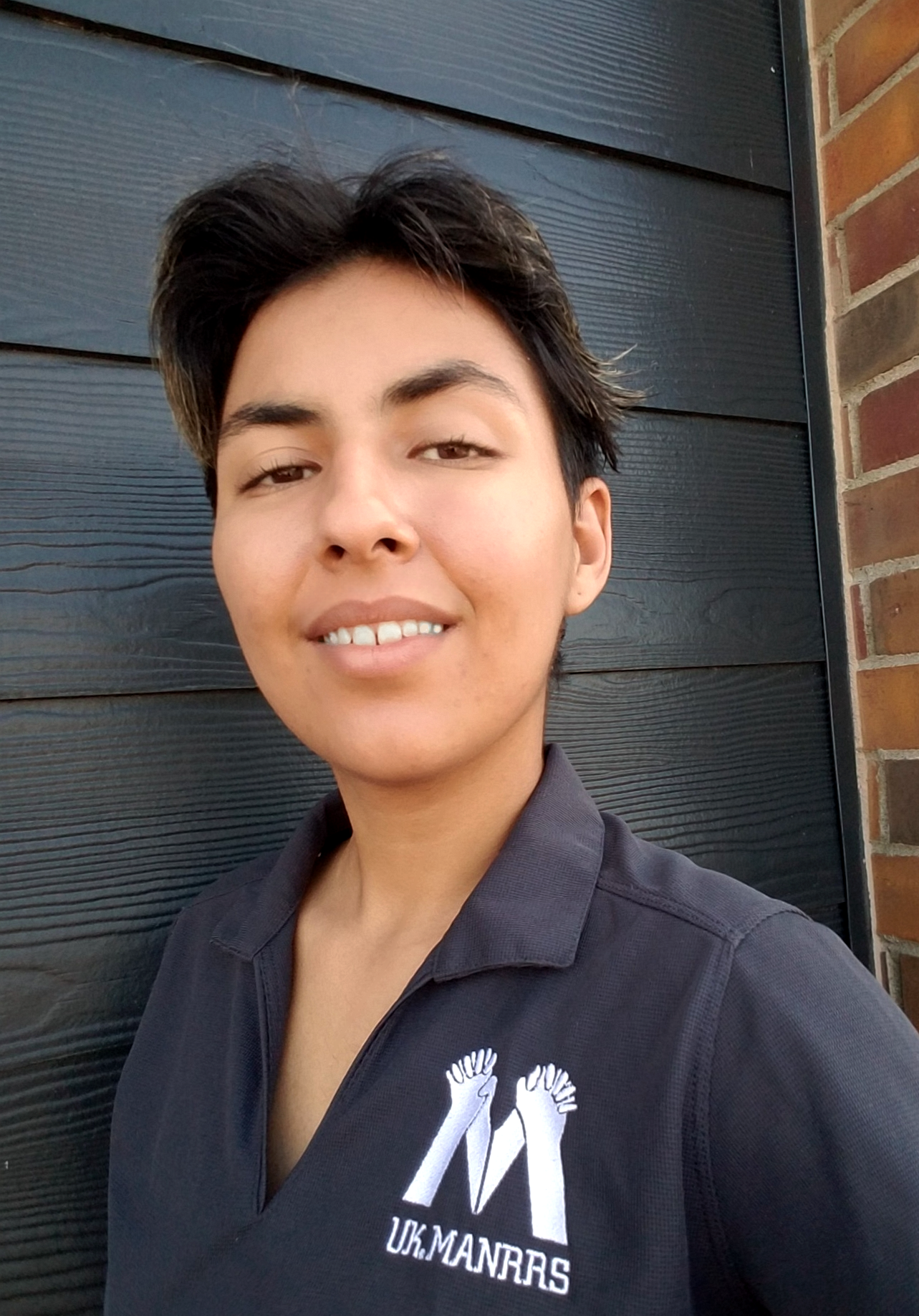 Horvath also formed a support system with CAFE advisor Rick Durham, a professor in the Department of Horticulture, and through the UK Minorities in Agriculture, Natural Resources and Related Sciences chapter.
"It took me until the very last MANRRS meeting in freshman year to actually go, and then COVID happened, and everything shut down," Horvath said. "All of a sudden, I was virtually relying on these people a lot to connect with other humans. It really helped me develop academically and professionally."
Now a senior, Horvath is less anxious about CAFE opportunities and taking on leadership roles. Horvath has since conducted research on UK Horticulture Research Farm and completed two internships. They are a member of UK MANNRS and served as the organization's 2021-2022 president. Horvath currently serves as a CAFE student ambassador, communications chair for the CAFE Student Council and a NatureRx intern with the UK Office of Sustainability.
Horvath plans to work in research and development at a seed company post-graduation.
"Graduating as a first-gen student is an accomplishment. It's like lifting up your entire family when you get your degree. That's why I'm proud to be first-generation."
Horvath encouraged any first-generation student thinking of applying to CAFE to do their research on ways they can find support and get involved.
"Connections with people and connections with clubs are going to be what keeps you going," Horvath said.
Reagan Knight- Agricultural and Medical Biotechnology senior
For Reagan Knight, navigating the college and scholarship application process was the easiest part of her transition to college. Though it was unfamiliar, Knight said she was able to research and use high school resources to manage the process, but without any previous reference for college social life from her family, no amount of research could help her prepare for the social changes of college.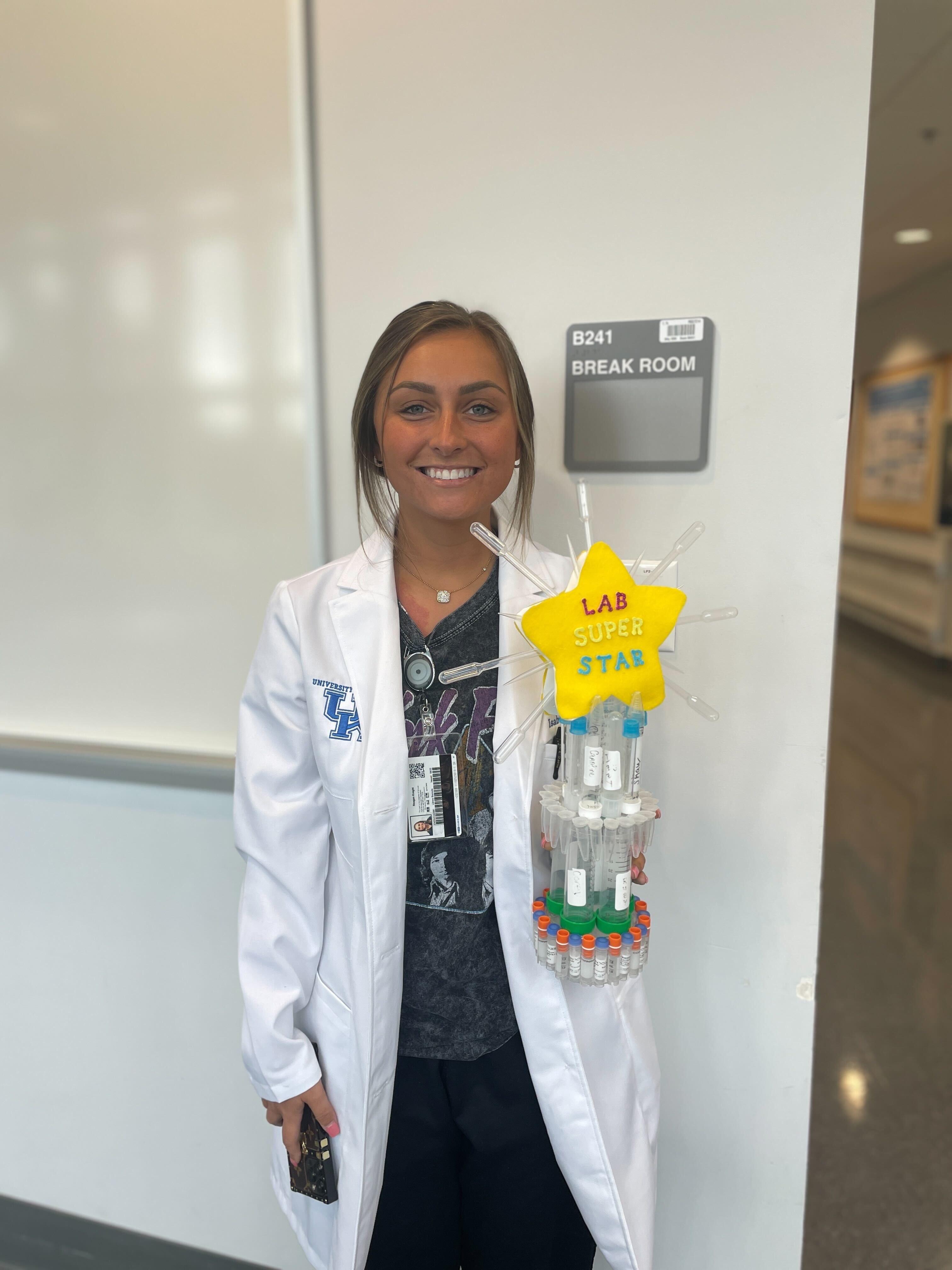 "The transition as a whole was definitely difficult for me because I went from being a big fish in a small pond in my hometown to being a small fish in a big pond in Lexington," Knight said.
Knight began as a biology major but had trouble adjusting to the large class sizes, so she searched for a smaller program that still supported her goal of becoming a pediatrician. Knight discovered CAFE's agricultural and medical biotechnology program and switched her major during her second semester.
"It's really just like a family-based environment, and I didn't understand how much I valued that family-based feeling at my small high school until I came to the College of Agriculture," Knight said.
Once settled into the new program, Knight found a passion for research and changed her end goal to clinical pharmacy. In her junior year, she was accepted to Markey Cancer Center's Appalachian Career Training in Oncology Program and currently works in a research lab studying the contribution of phosphatases of regenerating liver, oncogenes known to drive cancer metastasis, to cancer in zebrafish.
"If it wasn't for my major being within the College of Agriculture, I don't think my experience at UK would have looked like how it has, and it's definitely shaped me into being confident for pharmacy school and my future as a scientist," Knight said.
Knight will attend the UK College of Pharmacy as a class of 2027 PharmD candidate.
"I think college can be especially intimidating for first-generation students, but I also think it's a great thing that first-generation students can come to college and become their own person without the influence of following in family footsteps," Knight said. "A first-gen student's undergrad is strictly what they've set out to do and want to do, and I think that's something to be proud of. I know it's something I'm going to be proud of come May."
Mason DiSalvo- Agricultural Economics senior
The oldest of two siblings, first-generation student Mason DiSalvo encountered quite a learning curve when it came to applying to college and adjusting to the college environment.
"Navigating through freshman year was a little difficult at first. It took me and my friends a couple of shocks and failed tests for us to be able to say, 'Hey, this is completely different than high school,'" DiSalvo said.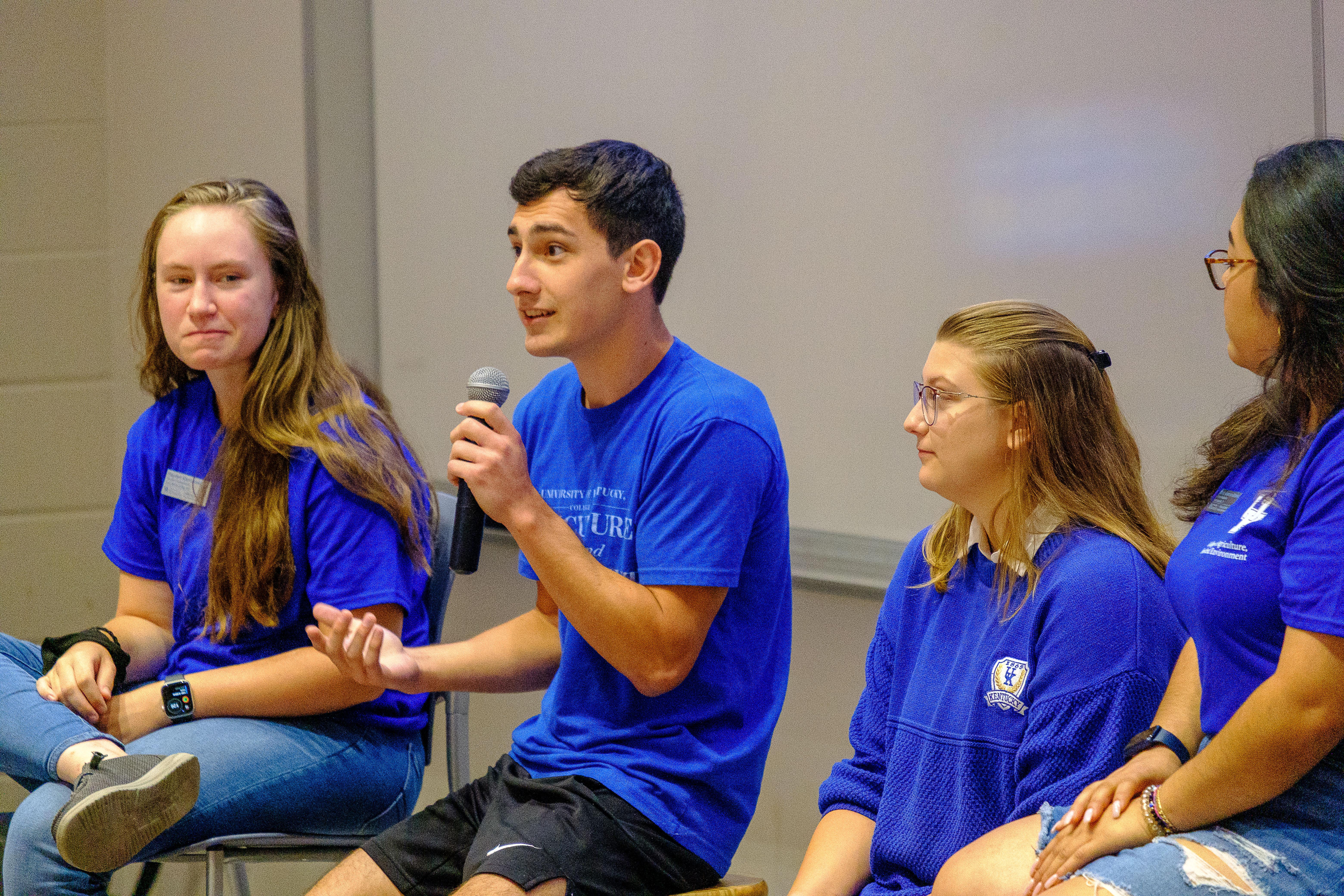 Now in his senior year, DiSalvo said he has learned quite a few things since then. Perhaps one of the biggest lessons is the importance of making connections in college.
"They're the people who are going to help if you're struggling in class. They may even be there on your wedding day one day or help you get a job in the future," DiSalvo said. "They're the people that are going to be there with you for the rest of your life."
DiSalvo first started building connections in the CAFE Agriculture Community Living Learning Program during his freshman year, and he is still friends with most of his fellow LLP students.
"Being in the CAFE LLP was one of the best decisions I could have ever made," DiSalvo said.
DiSalvo also found opportunities to build these connections through college clubs, faculty and staff and events. DiSalvo currently serves as the CAFE student council president and is a member of the UK Agribusiness Club. He said that he is grateful for the connections he has built with CAFE staff and faculty members including his advisor Susan Skees, student council advisor Derek Miller as well as numerous faculty members and teaching assistants throughout his college career.
His most recent opportunity to connect came through the Kentucky Signature Industries Career Fair, a joint career fair showcasing opportunities in the equine industry and distillation, wine and brewing industry. DiSalvo, who is pursuing a certificate in Distillation, Wine and Brewing Studies in addition to his bachelor's degree, attended a master distiller panel ahead of the fair.
"It really inspired me to be able to push further and be able to confirm that working hard, and knowing people are probably the two most important aspects of anywhere you go," DiSalvo said.
DiSalvo currently interns for Alltech's Lexington Brewing & Distilling Company, a role he landed through the suggestion of a professional connection. Post-graduation, DiSalvo plans to work at a distillery and hopes to eventually become a master distiller.  
Whitney Evans- Agricultural Education junior
With her family working in the equine industry, Whitney Evans discovered the agriculture community at a young age, leading to her involvement in the National FFA Organization. While exploring college options, Evans learned about UK's agricultural education program when CAFE faculty members visited her local FFA chapter events, introduced themselves at Winter Event and even helped her schedule a private campus visit.
Evans fell in love with the program and sought support from these familiar CAFE faces when going through the application and scholarship process. With this support and some financial assistance as a William C. Parker Scholar, Evans began her freshman year in fall 2020.
Evans was fearful that her freshman experience would be hindered by the COVID-19 pandemic with only one in-person class, but she tried to make the most of it by living in the CAFE Living Learning Program and always attending her classes. Evans said that despite being on Zoom or behind masks, she always felt a sense of community in the UK College of Agriculture, Food and Environment. As UK has returned to normal operations, Evans has found a way to make sure she continues to build that sense of community not only for herself but also for future CAFE students. Evans currently does this as a CAFE student ambassador and an intern for the National Association of Agricultural Educators and through her UK MANRRS membership.
Evans plans to bring this sense of belonging and community into her classroom once she graduates.
"I want to make sure that all my students have a seat at the table and see themselves represented in the agriculture field," Evans said. "I do this with so much passion because I think about how when I was younger, I yearned for someone who had a similar experience as me or who looked like me to achieve what I wanted to achieve in agriculture. I'm doing this to show younger Whitney and future students who may be hoping for similar things, that this is possible."
Evans said, however, that her journey and dream wouldn't be possible without a support system through the college.
"I don't think I would be as prepared to go out and pursue my career of choice without the resources, the scholarships and the interconnectedness of the College of Agriculture. I wouldn't want to be in any other college," Evans said.
To any first-generation students considering applying to CAFE, Evans encouraged them to make the leap. 
"Don't sell yourself short. There is a place for you within these walls, and there is a seat for you here, and we want you here," Evans said.
First-Generation Student Services, a unit housed in the university's Office for Student Success, will celebrate all UK first-generation students Nov. 7-11 with "The Power of One: A First-Generation Convention Experience," a series of event programming to empower and connect first-generation students across campus. Find event details and learn more about the first-generation resources available on campus here.
---
Economics
Events
Horticulture
Research
Students